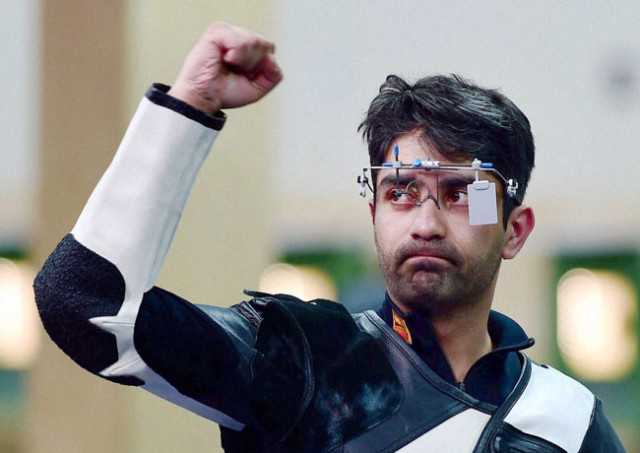 Abhinav Bindra
Former World and Olympic champion Abhinav Bindra gave an impressive start to the Olympic selection trials being held at the Dr. Karni Singh Shooting Range, New Delhi.
The 32-year-old Bindra shot 626.3 to top the Men's 10m Air Rifle. His series were 102.1, 104.0, 105.2, 103.9, 104.9 and a very impressive last series of 106.2.
Bindra has registered scores of 619.8, 624.6, 627.5 and 625.5 in the four ISSF World Cups this year. He will be shooting the Asian AirGun Championship at the same venue next month, apart from the National championship that is mandatory for all.
While London Olympic bronze medallist Gagan Narang, preparing for the ISSF World Cup Final, opted to skip the trials, Chain Singh (623.2), Imran Hasan Khan (619.2), Satyendra Singh (619.1), Ashok Chavanke (618.0), Sanjeev Rajput (616.2), Akhil Sheoran (616.0) and Ravi Kumar (610.2) followed in that order.
Ayonika tops in 10m Air Rifle
In the Women's 10m Air Rifle, ISSF World Cup bronze medallist Ayonika Paul topped the table with 418.1 ahead of Anjali Bhagwat (415.1), Shalini Chahar (413.8), Elizabeth Susan Koshy (413.6) and Kiran Kaur (411.5). Asian champion Pooja Ghatkar (410.7) was on par with Ayushi Gupta, and ahead of former world record holder Suma Shirur (407.0).
While Apurvi Chandela has won the Olympic quota and opted not to shoot the trials, Ayonika and Pooja would attempt to win the Olympic quota at the Asian Shooting Championship in Kuwait.
Olympian Heena Sidhu who twice missed out on an Olympic quota place narrowly in Women's 10m Air Pistol, asserted her versatility by shooting 581 in the 25-metre sports pistol. Surabhi Pathak (577), Pushpanjali Rana (570), Shreya Gawande (568), Shweta Singh (567) and Anisa Sayyed (566) followed her, while Olympians Annu Raj Singh and Rahi Sarnobat skipped the event, along with Gauri Sheoran.
In Men's 50m Free Pistol, in which the quota place winners Jitu Rai and Prakash Nanjappa are far superior in the averages, and opted to skip the event, Gurpal Singh of the army shot 557, and was followed by Om Prakash (554), Jai Singh (551), Dharmender Singh (548), Samaresh Jung (545) and Ravinder Singh.
Comments