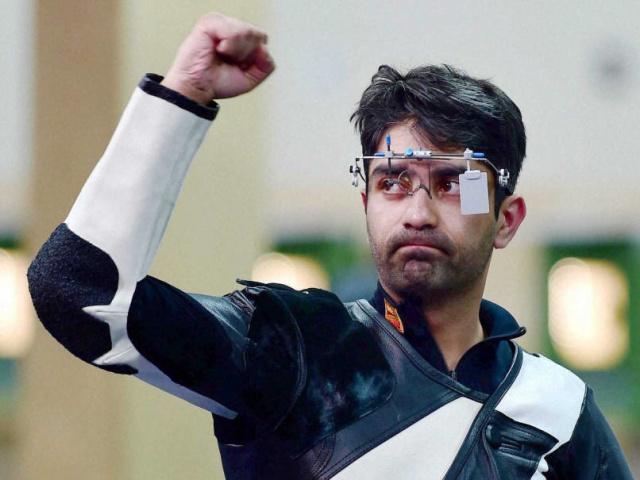 For those present in the morning session of the ongoing 59th National Shooting Championship being held at the Dr Karni Singh Shooting Range, surely it must have been a treat to watch 2008 Beijing Olympic champion Abhinav Bindra compete in the Men's 10m Air Rifle. In the preliminary round, he shot an excellent score of 626.9, it was the leading score of the day as none of the other shooters were able to surpass Bindra's performance.
Bindra had an excellent series of 104.7, 105.0, 103.8, 105.5, 103.3 and 104.6, which underlines the fact that he is regaining his golden touch of 2008 ahead of 2016 Rio Olympics. The Olympic champion had been struggling to keep himself in shape due to a minor back problem, but his performance in this competition hints that he is on the right track.
However, Bindra who is now sure to figure in the top eight will not be seen in action in the finals slated for Saturday evening.
Abhinav Bindra had recently tweeted, "Due to personal reasons which require me to travel I will not be able to complete my full competition at the national championships. I will however complete my qualification round on one of the days and fulfill the NRAI norms for selection etc".
With two Olympic medallists – Abhinav Bindra and Gagan Narang – the Men's 10m Air Rifle finals is the showcase event of the National Championships but Bindra's absence this time will certainly take the sting out of the finals. It's always interesting to witness the duel between Bindra and Gagan Narang — bronze medalists in the 2012 London Olympics — who will shoot in the preliminary round on Saturday.
Comments