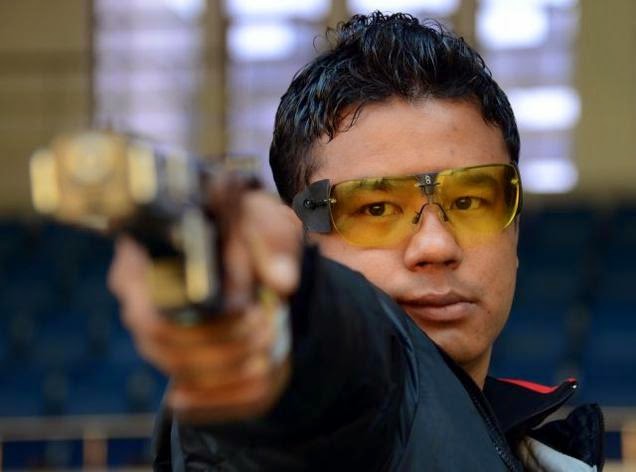 "This win will certainly give a big boost to my confidence", this was how Army shooter Pemba Tamang summed up his victory after a six-year-gap in his pet event — Men's 25m Rapid Fire Pistol — at the ongoing 59th National Shooting Championship in New Delhi.
For the past sometime, Pemba, one of country's top rapid fire pistol shooter who trains at the Army Marksmanship Unit (AMU) at Mhow, wasn't clicking at the right moment. It eroded his confidence level as well also robbed him a place in the Indian team for the upcoming Olympic quota event for Asia.
Such has been his form in the recent past that he was not even considered to be a part of the three member Army team for the event this time.
But his win on Tuesday in his pet event after a gap of six years has silenced his critics and opened up a new window for the Army shooter, who is hoping to make an impact once again at the international level in the next competitive season.
The final was slated for Monday evening, but due to poor visibility, it was postponed to Tuesday morning. According to Pemba, the postponement gave him more time to prepare for the finals. "I was all set to shoot even on Monday but the postponement worked for me as I got to shoot today with a more relaxed mind and body. I got to spend some more time with my coach last evening which helped me to focus on the job at hand today. Things went as per plan and I happy to win the gold in my pet event after a gap of six years".
Pemba however missed his training partner and Olympic silver medallist Vijay Kumar who could not make the cut for the final. He said, "I push my limits when Vijay is around. It helps me to shoot better. I did feel Vijay's absence in today's final".
Another Army shooter and the favorite to win the event, Gurpreet Singh couldn't find the right rhythm and eventually finished fourth.
The rapid fire pistol event is generally dominated by Army marksmen, with Army's Neeraj Kumar walking away with the silver, it again illustrated Army's dominance in this Olympic event. Wazeer Singh of Border Security Force (BSF) took the third spot.
Comments