Ankur Mittal won a gold and in the process also equalled the world record in the Men's Double Trap at the ISSF World Cup in Acapulco, Mexico.
The 24-year-old Ankur claimed his second consecutive World Cup medal in less than a month's time after the silver he had won at Delhi.
Ankur not only improved the colour of the metal but also improved his qualification and final's score by a point each.
Ankur shot strong throughout the day, ending second in qualification with a score of 138 out of a possible 150. He also got the better off China s Ying Qi 6-5 in a shoot-off to decide second and third spots after both had finished their qualifying rounds on the same score. In the finals, Ankur missed a total of five targets, including just two in his last 40 to equal the world record and finish on top with a score of 75.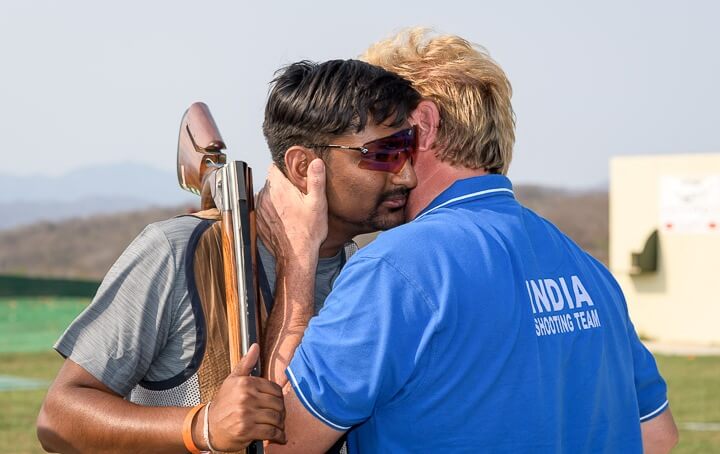 The silver was won by World No. 1 James Willett, interestingly the Australian had pipped Ankur to win the gold at the Delhi World Cup.
Speaking to indianshooting.com, Ankur said, "This performance is better than the one at Delhi. I am very happy to win a gold here."
I wouldn't call it a revenge," said Mittal after the award ceremony. "James is great shooter and winning and losing is all part of the game. The conditions in the finals were perfect. Wind affected most of the qualification rounds, but in the afternoon it was not so strong."
The bronze was won by Qi Ying of China who had finished 11th at the Delhi World Cup.
14-year-old Shapath Bhardwaj participating in his second World Cup shot 128 (25,24,25,26,28) to finish 12th.
Congratulations to Ankur Mittal for his win at Acapulco ! Well done

— Abhinav Bindra (@Abhinav_Bindra) March 23, 2017
Also Read: Ankur Mittal strikes silver in ISSF World Cup
Comments