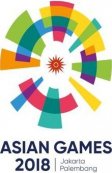 Deepak Kumar and Lakshay Sheoran won silver medals in the men's 10m air rifle and men's trap respectively at the 2018 Asian Games — taking India's shooting medal tally to three — in Palembang on Monday.
With this win, Deepak became the third Indian after Gagan Narang (silver in 2010) and Abhinav Bindra (bronze in 2014) to win an individual air rifle medal at the Asian Games.
Deepak produced incredible scores at critical junctures and finished second to China's Haoran Yang, who successfully defended his air rifle title.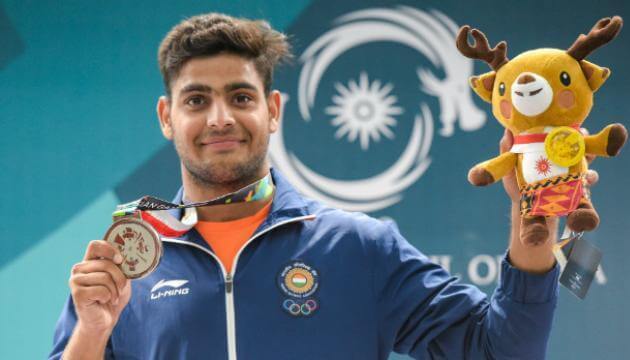 Tied in the 4th position with Korea's Song Soojoo at one stage, Deepak was on the verge of being eliminated. But he then shot a perfect 10.9 to move to the 3rd position and followed it with a 10.8 to assure himself of atleast a silver.
Deepak's score in the end was 247.7 while Yang shot a Games record of 249.1.
Ravi Kumar and Deepak made it to the finals with score of 626.7 and 626.3 respectively while Yang topped the qualifiers with 632.9.
Ravi, who combined with Apurvi Chandela to win bronze in the 10m air rifle mixed team yesterday, finished 4th with 205.2.
Deepak had finished 5th at the 2018 Commonwealth Games and 4th at this year's first ISSF World Cup at Guadalajara, in Mexico.
Chinese Taipei's Shaochuan Lu (226.8) bagged the bronze.
Deepak broke into the Indian team only last year, having picked up shooting back in 2004. However, Deepak sees this medal only as the beginning.
In women's 10m air rifle Apurvi Chandela, who shot the second best qualification score of 629.4, finished 5th with a score of 186.0. She was in 3rd position but a 9.8 on the 18th shot led to her elimination.
The other Indian in the event, Elavenil Valarivan, shot 620.8 to finish 14th.
Lakshay Sheoran traps silver
Young Lakshay Sheoran claimed the silver in men's trap.
The 19-year-old Lakshay shot 43 out of 50 to finish second on the podium.
Former world champion Manavjit Sandhu missed out on a podium finish as he ended up 4th with 26 hits. The veteran shooter had earlier topped the qualification with 119/125 and 12/12 in the shoot-off.
Chinese Taipei's Yang Kunpi won the gold while equalling the world record with 48, while Korea's Daemyeong Ahn bagged bronze with 30 in 40 shots.
Lakshay and Kunpi headed into the 10-shots gold-medal match with 34 and 38 respectively.
However, it was likely that Kunpi would go on to win the gold as he had a four-point lead over Lakshay. Kunpei didn't miss any target as he charged his way to the gold.
Lakshay will also be in action in the mixed trap event.
In women's trap Seema Tomar finished 6th with 12 hits after qualifying for the finals with 116 (Shoot-off 3) while Shreyasi Singh shot 116 (Shoot-off 0) to finish 7th.
The Results:
Men's 10m Air Rifle: 1. Yang Haoran (China) 249.1 GR (632.9); 2. Deepak Kumar (India) 247.7 (626.3); 3. Lu Shaochuan (Chinese Taipei) 226.8 (625.2); 4. Ravi Kumar (India) 205.2 (626.7).
Women's 10m Air Rifle: 1. Zhao Ruozhu (China) 631.9 QGR (250.9 GR); 2. Jung Eunhea (Korea) 248.6 (627.0); 3. Nandinzaya Gankhuyag (Mongolia) 227.4 (626.6); 5. Apurvi Chandela (India) 186.0 (629.4); 14. Elavenil Valarivan (India) 620.8.
Men's Trap: 1. Yang Kunpi (Chinese Taipei) 48 EWR (118); 2. Lakshay Sheoran (India) 43 (119+0); 3. Daemyeong Ahn (Korea) 30 (119+10); 4. Manavjit Sandhu (India) 26 (119+12).
Women's Trap: 1. Zhang Xinqiu (China) 45 (117); 2. Geeeun Kang (Korea) 44 (116+4); 3. Ray Bassil (Lebanon) 34 (119); 6. Seema Tomar (India) 12 (116+3); 7. Shreyasi Singh (116+0).
Our shooters continue to make us proud! Congratulations to Deepak Kumar and Lakshay Sheoran for winning Silver medals in the men's 10m Air Rifle event and trap shooting respectively at #AsianGames2018. #PresidentKovind

— President of India (@rashtrapatibhvn) August 20, 2018
Comments