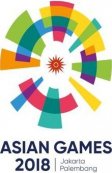 16-year-old Saurabh Chaudhary put up a stellar performance in men's 10m air pistol to become India's youngest shooter to win an Asiad gold.
Saurabh, who topped the qualifying round with a personal best score of 586/600, shot a Games record of 240.7 to claim the gold in an exciting final.
Saurabh, a student of class XI, showed maturity and calmness well beyond his age to snatch the lead from Japan's 42-year-old former World Champion Tomoyuki Matsuda on the penultimate shot in the 24-shot final.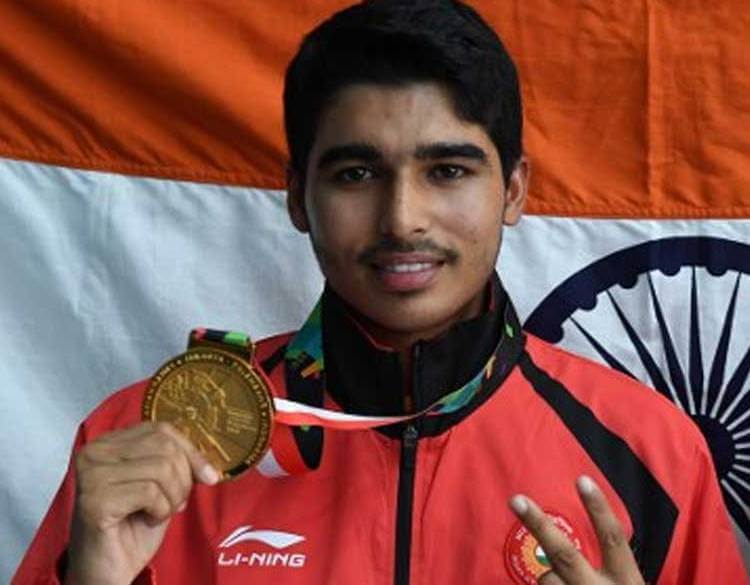 In second position for most of the final, Saurabh surged ahead with a 10.2 after Matsuda fired a poor 8.9 in his penultimate shot. Saurabh held his nerve to register a 10.4 on his last shot to seal the gold in his Asian Games debut. Matsuda settled for the silver with 239.7.
"I did not feel any pressure," said Saurabh, who picked up the sport only three years ago at a private shooting academy at Benoli near Baghpat, 53 kilometers from Meerut. Whenever he is home, he helps his father in the farming business.
"I like farming. We don't get much time off from training but whenever I do, I go back to my Village (Kalina) and help my father," said Saurabh.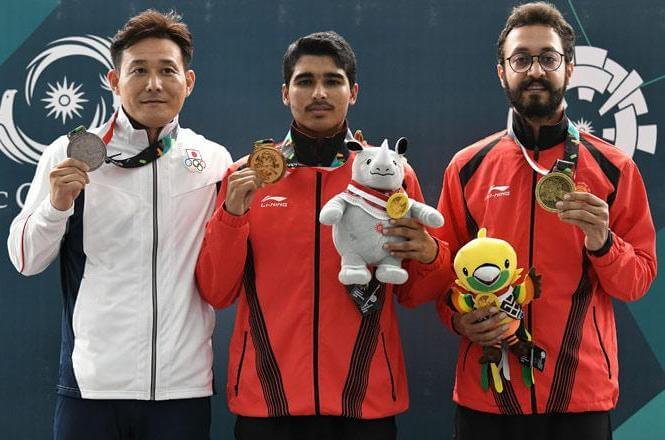 In June this year, Saurabh had broken the junior world record on way to winning a gold in the ISSF Junior World Cup at Suhl, Germany.
But not many thought that he would emulate the golden feat achieved by the likes of Randhir Singh, Jaspal Rana, Ronjan Sodhi and Jitu Rai at such a young age.
Saurabh will be off to the ISSF World Championships after the Games. He will also participate in the 2018 Youth Olympics to be held in Buenos Aires, Argentina in October.
Abhishek Verma wins bronze
Abhishek Verma, also making his Asian Games debut, settled for the bronze with a score of 219.3 in 22 shots.
Like Saurabh, Abhishek also picked up the sport three years ago at a private shooting academy in Hisar.
The 29-year-old Abhishek shot a couple of 10.7s in the final to get himself into medal contention. He consolidated from there, producing a solid finish.
This was the first time India had two shooters on the Asian Games podium.
Abhishek started taking shooting seriously only in 2016 after he won a silver medal in the civilian category in the Nationals. Earlier this year he competed at the ISSF World Cup in Germany and shot a score of 585. He repeated the same score in the fifth selection trials, which meant the Haryana shooter edged out seasoned Jitu Rai for a spot in the team for the Asian Games.
Abhishek's selection in the Indian team had come in for a lot of criticism as he had very less experience of international competitions. On Tuesday, this qualified lawyer, and son of a district & sessions judge proved his critics wrong.
Sanjeev Rajput wins silver in 50m rifle three positions
Sanjeev Rajput won the third medal of the day for India in shooting as he clinched a silver in men's 50m rifle three positions.
The 37-year-old Sanjeev dominated the final throughout, staying at the top but slipping in the end to miss the gold by a narrow margin of 0.6 point.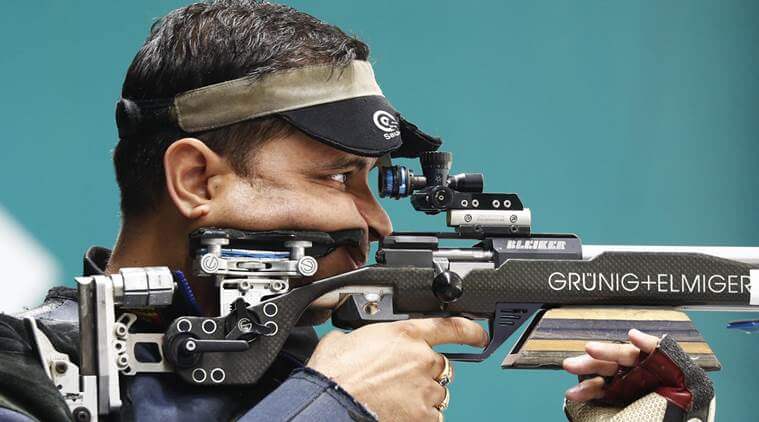 Sanjeev, who had won gold at this year's Commonwealth Games, shot a score of 452.7 for the silver while China's Hui Zicheng won the gold with 453.3. Japan's Takayuki Matsumoto bagged the bronze with 441.4.
Sanjeev had earlier shot a qualification score of 1160/1200 to make it to the final with the seventh best score. Another Indian in the fray, Akhil Sheroan shot 1158 to miss the final by a point and finished 11th.
The Results:
Men's 10m Air Pistol: 1. Saurabh Chaudhary (India) 240.7 GR (586); 2. Tomoyuki Matsuda (Japan) 239.7 (581) ; 3. Abhishek Verma (India) 219.3 (580).
Men's 50m Rifle Three Positions: 1. Hui Zicheng (China) 453.3 (1172); 2. Sanjeev Rajput (India) 452.7 (1160); 3. Takayuki Matsumoto 441.4 (1163); 11. Akhil Sheoran (India) 1158.
Our shooters are bang on target! Delighted to know that Saurabh Choudhary and Abhishek Verma has won the Gold and Bronze medal respectively in the 10m Air Pistol event at the #AsianGames2018. We are proud of you! #PresidentKovind

— President of India (@rashtrapatibhvn) August 21, 2018
Comments