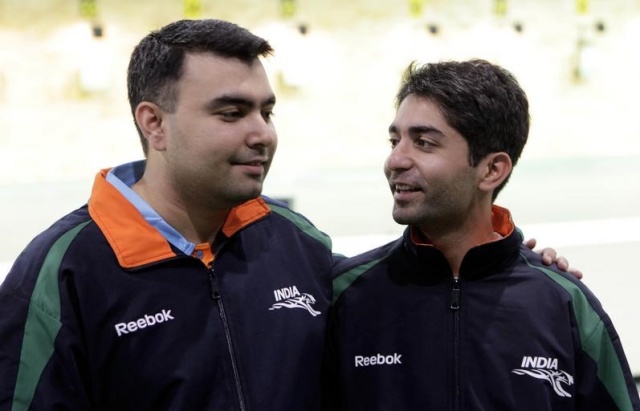 It turned out to be another disappointing day for the Indian shooters in Rio as as two of it's most popular names Abhinav Bindra and Gagan Narang missed out on making the finals of Men's 10m Air Rifle in the ISSF World Cup being held in Rio De Janerio's Olympic Shooting Centre.
Bindra shot 626.2 (103.7, 104.2, 103.8, 105.1, 105.3, 104.1) in the qualification but fell short of just 0.5 point to make the cut for the finals. He finished 10th while Narang shot 622.8 (102.5, 104.2, 105.1, 104.6, 104.0, 102.4) to end in 31st position.
However both Bindra and Narang improved on their scores from the season's first ISSF World Cup in Bangkok last month where they had shot 622.7 and 617.6 respectively.
Bindra sounded satisfied with his performance.
Some what of a satisfying outing at the test event. 626.2 (598) pic.twitter.com/ORjH8Kvor6

— Abhinav Bindra (@Abhinav_Bindra) April 18, 2016
The two rifle aces who have an Olympic medal each to their names in the air rifle event will be looking forward to win their second Olympic medal at Rio.
Chain Singh, the third Indian in the fray finished his day on 52nd position with a score of 619.4 (103.6, 103.4, 102.6, 101.4, 105.0, 103.4).
Both Bindra and Narang understand the importance of an Olympic test event and would have wanted to make as much use of this World Cup as it's being held in the Olympic venue where the two will come back to shoot in less than four months from now.
One hour Pre event training followed by 2 hours of unofficial training. Making the most of possibilities to shoot and train in rio.

— Abhinav Bindra (@Abhinav_Bindra) April 17, 2016
Junior World Champion Vladimir Maslennikov of Russia won the gold, China's Cao Yifei won the silver while Russia's Sergey Kamenskiy won the bronze.
The Results:
Men's 10m Air Rifle: 1. Vladimir Maslennikov (RUS) 207.0 (631.1); 2. Cao Yifei (CHN) 206.0 (629.3); 3. Sergey Kamenskiy (RUS) 184.5 (626.9); 10. Abhinav Bindra 626.2; 31. Gagan Narang 622.8; 52. Chain Singh 619.4.
Comments