To know a champion, understanding the psyche is crucial. Ahmed Al Maktoum hails from the ruling royal family of Dubai, took to shooting sport at 34, and with time came to be hailed as one of the greats in shotgun shooting, especially double trap in which he claimed the UAE's first Olympic gold at the 2004 Athens Games. For the 56-year-old, who now divides time between family and tending his falcons, it was finding an avenue to channelize his love for bringing down targets with precision after hunting became "too tight" in Dubai. "I was born with guns and my ancestors were hunters, so when the first shooting range came up here, I took to the sport to be able to keep doing what I loved," said Al Maktoum during an online interaction on Thursday.
Al Maktoum, who was the undefeated UAE squash champion from 1985 to 2000, shifted to shooting in 1998 with an aim to win an Olympic medal for his country. The urge to excel was strong but there was a lot of catching up to do with competitors, so Al Maktoum devised a "secret technique" to beat the best in the field. He came up with a raised-rib design that allowed him a better head-up profile and spotting targets became easier and quicker. That bit taken care of, Ahmed, the man in a hurry; so much so that he did not bother to patent the new design as it would have taken time, worked on getting fitter than his rivals and shedding the royalty tag when he was competing. The first part was tough but not the second bit. "I come from a royal family but if you are to be a champion you have to climb down, and the only way to have people look up to you is by winning medals. So, when I left for tournaments, I separated myself mentally as being royalty," he said. Brought up in an environment where he was taught to do chores like washing, laundry, dishes, Al Maktoum till date cooks dinner for the family at least five times a week and cleans his cars after returning from a desert safari. His children too are also being trained to be self-sufficient.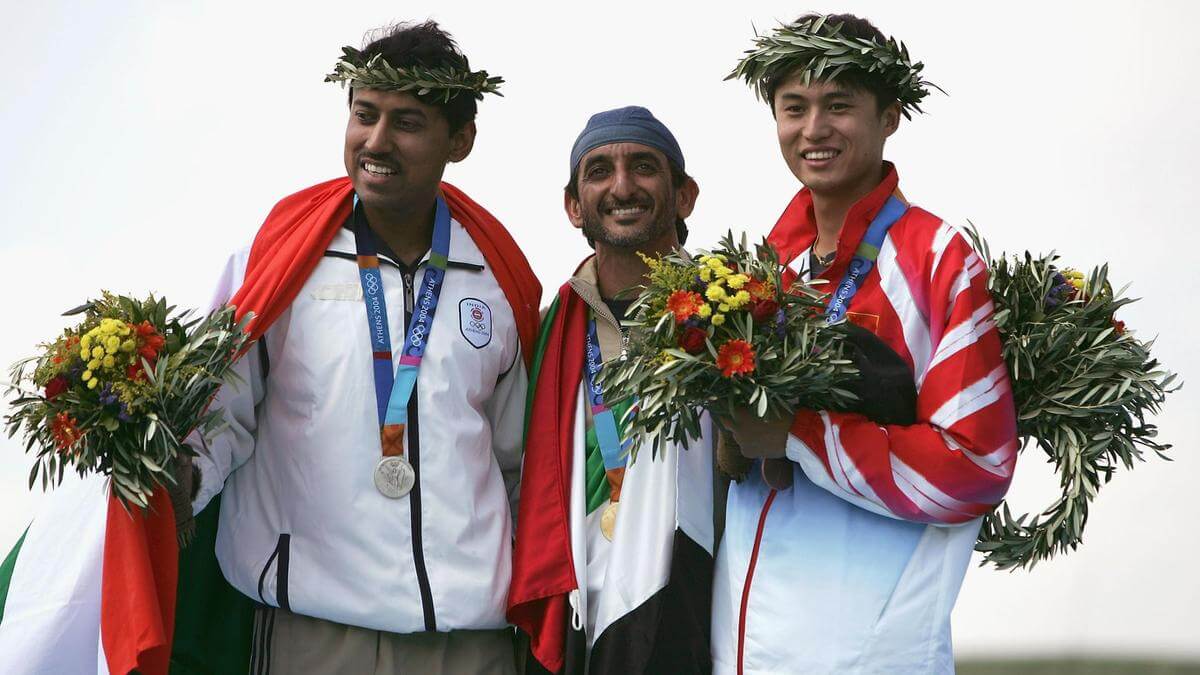 Starting out late in his career, Al Maktoum was regular with sprints on the soft sands of Dubai, 200m and 400m, to keep the heart rate at an optimum. "Often, technically better shooters falter during competition because their heart rate goes up at the range under pressure," he said. It was because of his peak fitness level that in the first year of his build-up to Athens, Ahmed shot 250,000 shots in that calendar year.
The tales of his metal fortitude go on. Before the 2004 double trap gold, Al Maktoum was in line to win UAE's first medal Olympic medal in trap but missed the bronze by a whisker. "It hurt but I returned to the hotel, took a long bath and switched off mentally and drew confidence from my technique." The tactic worked as he won the double trap gold by a comfortable margin. It was a historic moment for India as well as Rajyavardhan Rathore got silver, but Ahmed did not even notice his competitors. "The target was my rival not the other finalists," said Al Maktoum, who went on to bag gold at the 2005 ISSF World Championship in Lonato.
The 2008 Beijing Olympics is another landmark event as even though Al Maktoum did not make the podium in double trap, he embarked on a journey of mentoring another Olympic champion. It was a hesitant Peter Wilson who approached Ahmed for guidance, half prepared he was hear 'no' for an answer. "If you don't ask, you don't get," said Wilson on that life-changing moment. The Briton was asked to travel to Dubai for as assessment before Ahmed took a call. Wilson tried his best to showcase his skill, but it did not cut ice as the coach was checking his attitude and personality. Wilson passed the test, and under Ahmed won the double trap gold at the 2012 London Olympics.
The association over the years has blossomed into much more than that of a teacher and pupil, but even amidst the friendly banter, Wilson stays in awe even now. "I was very fit in 2012, but it was nothing compared to Ahmed's level in 2004."
By Robin Bose
Comments