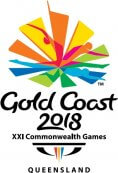 India's teen sensation Mehuli Ghosh won silver medal while defending champion Apurvi Chandela won bronze in Women's 10m Air Rifle at the 2018 Commonwealth Games in Gold Coast, Australia.
The 17-year-old Mehuli came agonisingly close to winning gold as she lost the single shot shoot-off to Singapore's Martina Lindsay Veloso.
Mehuli, who was 0.5 point behind Martina before the last shot in the finals, shot an unbelievable 10.9 to set up a shoot-off with Martina who had shot a 10.4 before Mehuli.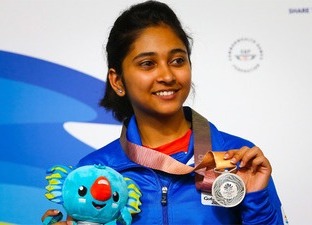 Hearing the loud cheer from the audience behind, Mehuli thought she had won the gold and left her firing lane, only to realize that she had not overtaken Martina, but tied the score with her at 247.2.
In the shoot-off between Mehuli and Martina, the Singapore girl shot 10.3 while Mehuli could only get a 9.9, and lost out on gold.
"On hearing the loud cheer from the audience, Mehuli thought she had won gold and so she left her position. The audience was only cheering for her 10.9. She should have not left her firing lane," said Olympian Joydeep Karmakar who is also Mehuli's mentor.
Apurvi, who shot 423.2 to rewrite her own CWG qualification record from four years back, took the bronze with 225.3 in the finals.
Earlier in the finals, after the first 5 shots, Mehuli took a lead of 0.2 point ahead of Martina while Apurvi was placed 5th. However it was Martina who kept getting better as the final progressed, while Mehuli and Apurvi seemed to be fighting throughout for silver and bronze. Apurvi gave a tough fight to Martina till the 20th shot and was tied on 206.0. But in her next two shots, Apurvi could only shoot 9.9 and 9.4 and settled for the bronze.
The Results:
Women's 10m Air Rifle: 1. Martina Lindsay Veloso (Singapore) 247.2 – S-Off 10.3 (414.3); 2. Mehuli Ghosh (India) 247.2 – S-Off 9.9 (413.7); 3. Apurvi Chandela (India) 225.3 (423.2 QGR).
Delighted to know that Mehuli Ghosh has won SILVER and Apurvi Chandela BRONZE in the Women's 10m Air Rifle event at #GC2018 Our shooters on target again #PresidentKovind

— President of India (@rashtrapatibhvn) April 9, 2018
Comments