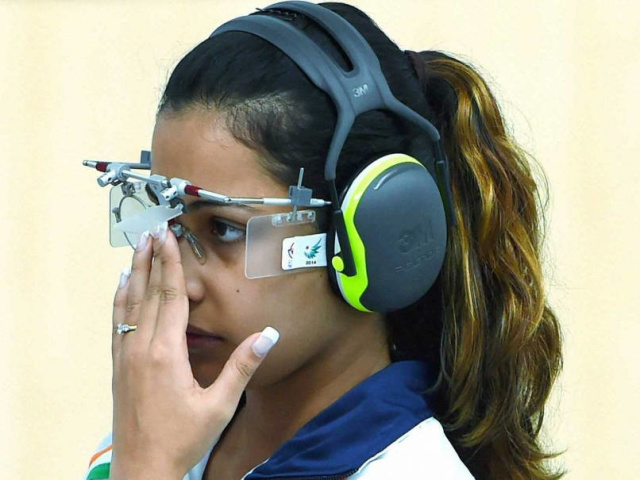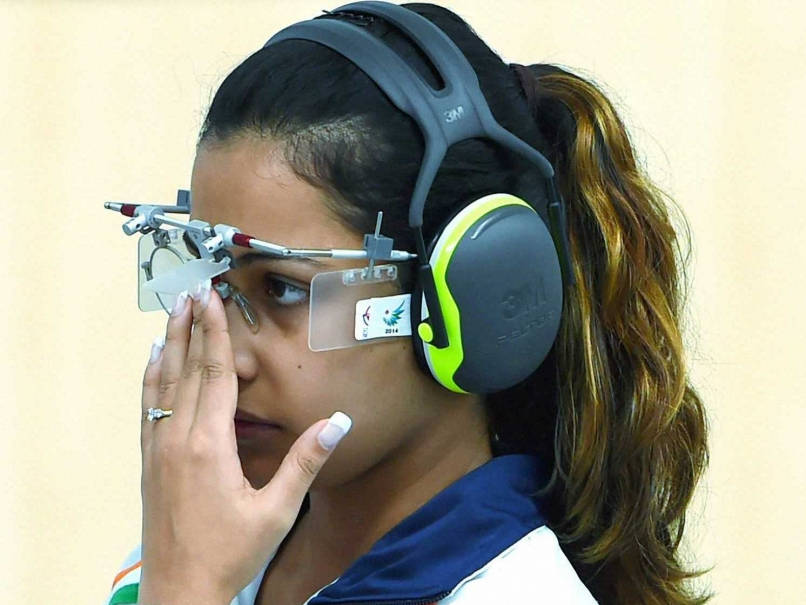 After two consecutive days of Iran's domination, Heena Sidhu and Shweta Singh put the spotlight back on the Indian shooters by making it one-two for India at the 8th Asian Airgun Championship in New Delhi.
Heena shot a total of 197.8 to pip compatriot Shweta, who shot 197, to win gold in the Women's 10m Air Pistol. Korean shooter Seon A Kim took bronze with a total score of 175.8.
The gold ensured that India matched Iran's haul of six gold.
It could have been triple delight for India on the final day of the competition as promising youngster Yashaswini Deswal failed to make the cut in last three after finishing fourth with a score of 155.3. However the 18-year-old shot the highest qualification score of 387 (97,96,95,99).
After the first six shots in the finals, Shweta was leading by 0.6 points ahead of Heena but her following shots on 9.5 and 9.2 pushed her down to the second spot. The two aces fought till the very end with the lead changing hands several times in the final. Shweta had a slender lead of 0.1 points before the last two final shots were fired. Heena shot 10.6 and 9.9 as compared to Shweta's 8.9 and 10.0 which was good enough for Heena to claim the gold by 0.8 points.
Speaking to indianshooting.com Heena said," I am happy to win on one of my bad days. We tried to make the match conditions as tough as possible with an aim to prepare for Rio next year and am happy I could still come out as the winner.
Heena had also won gold in the previous edition with a score of 200.3 (386) at Kuwait in 2014.
"We are preparing very hard to win a quota for Rio Olympics. Today's result under home range pressure is satisfying but we still have to do some work before the Asian Shooting Championship in Kuwait". said her coach and husband Ronak Pandit.
Ronak also told us that he made the match conditions very tough for Heena in order to make her mentally stronger before next month's Asian Shooting Championship. "I made things very difficult for her today. We stopped her mental training on our software machines so she could only rely on personal feelings. I called her father and brother to watch her match in order to make her conscious. We came here without any competition preparation – only technical training. Heena needs to shoot some training matches to get used to the timings and rhythm. I also told her if she can't win here then she doesn't deserve to be at the Olympics – so the pressure of winning today at any cost was there. Like every sportsperson, Heena too has her lucky clothes and some unlucky clothes. I made her wear the most unlucky clothes today," added Pandit.
India won the team gold with a score of 1157 while Sri Lanka won silver with 1098, four points ahead of Hong Kong. With only three teams in the race, Hong Kong did not get the bronze.
Shri Nivetha won the gold in junior category, silver was won by Gauri Sheoran while Shreya Gawande took the bronze, in a field that had only four shooters.
The Results:
Women's 10m Air Pistol: 1. Heena Sidhu 197.8 (387), 2. Shweta Singh 197.0 (383), 3. Kim Seon A (Kor) 175.8 (378), 4. Yashaswini Singh Deswal 155.3 (387). MQS: Akanksha Bansal 378, Harveen Srao 377, Team: 1. India 1157, 2. Sri Lanka 1098, 3. Hong Kong 1094.
Juniors: 1. P. Shri Nivetha 200.7 (378), 2. Gauri Sheoran 198.0 (380), 3. Shreya Gawande 179.9 (380). MQS: Lavi Malik 365, Oshin Tawani 361, Team: 1. India 1138.
Youth: 1. Haniyeh Rostamiyan (Iri) 195.6 (374), 2. Laya Mohammadi (Iri) 195.4 (368), 3. Harshada Nithave 174.8 (373), 6. Malaika Goel 113.9 (374), 7. Nayani Bhardwaj 93.6 (369). MQS: Yogita Lamba 380, Swati Devadi 364.
Team: 1. India 1116, 2. Iran 1104, 3. Chinese Taipei 1100.
Comments