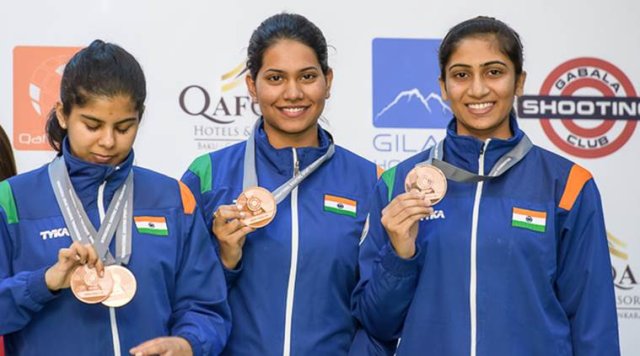 The Indian junior shooting squad continued its medal-winning spree at the ISSF Junior World Cup, bagging a gold, two silver and three bronze medals on the second day to take its overall tally to 13.
After picking up seven medals, including three golds to top the medal table at the end of day one, India picked up six more medals on day two to lie second behind Russia in the medal tally.
India's only gold medal of the day came in the Junior Women's 10m Air Pistol event, when Yashaswini Singh Deswal, Malaika Goel and Harshada Nithave combined for a total score of 1122 to finish way ahead of second-placed Turkey's score of 1104. Uzbekistan won the bronze shooting a total of 1086 in the event.
Day two started with a team silver for India, when the trio of Gaurav Rana, Hemendra Kushwah and Saurabh Chaudhary came second in the Junior Men's 10m Air Pistol event.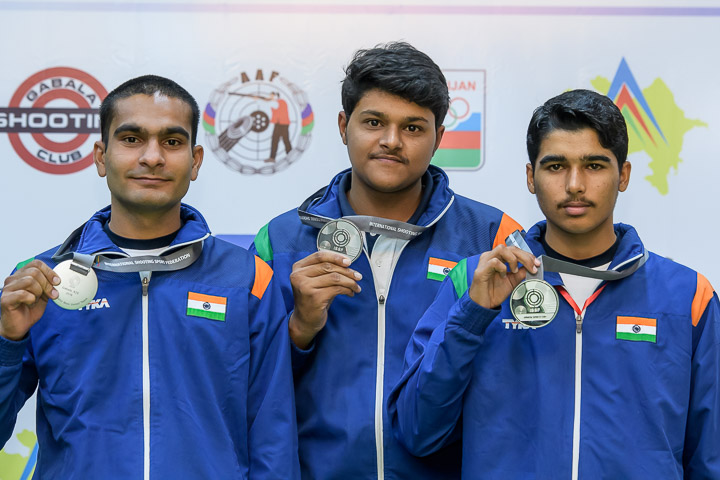 Then Anmol won an individual silver in the event, when he finished behind gold-medallist Artem Chernousov of Russia in the final.
Anmol was among three Indians who had qualified for the finals, where after a relatively poor start, he shot a great second and fifth series, while also finishing strongly to claim second place with a final round score of 197.5 while the Russian shot 199.7. Another Russian, Evgeniu Borovoi bagged the bronze with a score of 175.8.
Hemendra Kushwah finished seventh while Gaurav could not reproduce his qualifying form and ended eighth.
Two Indians, Gaayathri Nithyanadam and Dilreen Gill, had qualified for the finals of the junior women's 50m Rifle 3 Positions event.
Earlier, Gaayathri had won the team bronze in the event along with Sonika and Aditi Singh. Gaayathri then had an up and down final to eventually settle for an individual bronze behind Nikola Foistova of the Czech Republic who won gold and Olga Efimova of Russia who won silver.
Gaayathri's eventual final round score was 438.9, while Nikola shot 451.5 and Olga 450.6. Dilreen Gill, the second Indian in the final, finished sixth with a score of 406.3.
Three Indians reached the final in the Junior Women's 10m Air Pistol which had helped them bag the team gold in the event.
In the finals, at the first elimination point, which is after eight shots, Malaika was lying fourth, Yashaswani fifth and Harshada had a brilliant six-shot series to pull up to fourth position after a poor start.
Then after being in silver medal position after the 11th shot, Harshada posted a string of low scores to end her campaign in fourth place. Margarita Lomova of Russia, won the gold, Anna Dedova of the Czech Republic won silver and Afaf Elhodod of Egypt won the bronze.
Yashaswini and Malaika finished sixth and seventh respectively. The last medal of the day was a team bronze, won by the junior men's skeet team comprising of Anant Jeet Singh Naruka, Sukhbir Singh Harika and Hamza Sheikh who logged a total of 337 points to finish behind the Russian Team who won gold (360) and the Chinese team which won silver (339).
Comments