Showing maturity beyond his 16 years, India's Visnu Shivaraj Pandian defied a field that boasted of proven world beaters to win the 10m air rifle event at the 5th edition of the International Online Shooting Championship (IOSC) on Saturday. Visnu shot 251.4 in the final to emerge winner by a clear margin of two points.
The second place went to World No. 27 Etienne Germond of France while Austria Olympic quota winner Martin Strempfl finished third.
The presence of Martin, the world most experienced online shooter, and Etienne, seemed to have no effect on the young Visnu as he held his own and finished with the second best qualification score of 630.8, 0.6 point behind Martin.
It isnÔÇÖt for nothing that Visnu is termed a prospect to watch out for in the coming years. In the final, he led from the start to make it a contest for the second and third spots between Martin and Etienne. That pressure can get the better of the world best came to the fore towards the end. The narrowest of 0.1 points separated Etienne, placed second, from Martin after the 20th shot, but with a 10.4 on the 21st shot Martin seemed to gain the upper hand as he only needed a 10.1 to make the final two with Visnu. That was not to be as the normally unflappable Austrian faltered with a 9.9 to be out of contention. It was a below-par show by Martin high standards, and he blamed it on everything going adrift to the right in the final and I will need to find outÔÇØ. Relieved at the reprieve, Etienne remarked, It is surprising that even when you (competitors) are not at the same place, it can be stressful.ÔÇØ
Etienne made the final-two alright and even shot a 10.7 against Visnu 10.1 on the 23rd shot, but the night belonged to the young Indian. Showing that he belongs to the big stage, he shot a 10.7 on the final shot to canter home. The stage was his, but the win had extracted a price. It was a great experience, but I experienced pain in the soles of the feet and was trying to relax in between shots,ÔÇØ said Visnu. On his performance, the teenager felt he could have done better. The qualification was average; the final was better with some high and low scores which balanced it out.ÔÇØ
Pratyush Aman Barik, the other Indian to make the final, finished 7th.
The 10m air pistol event will be held on Sunday and leading India challenge will be Olympic quota winner Yashaswini Singh Deswal.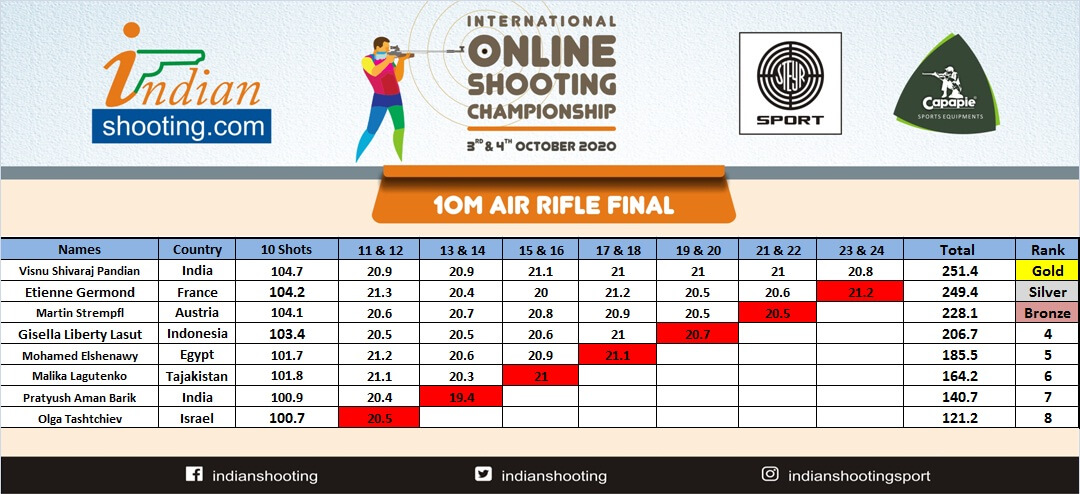 The Results:
10m Air Rifle: 1. Visnu Shivaraj Pandian (India) 251.4 (630.8); 2. Etienne Germond (France) 249.4 (626.6); 3. Martin Strempfl (Austria) 228.1 (631.4).
Comments