Olympic quota winner Aishwary Pratap Singh Tomar of India claimed the gold medal in Men's 50m Rifle Three Positions at the ongoing ISSF World Cup in New Delhi.
The 20-year-old Aishwary shot 462.5 to win the yellow metal with a margin of 0.9 point ahead of World No 1 Istvan Peni of Hungary. The bronze was won by Steffen Olsen (450.9) of Denmark who also won the Olympic quota for his country.
This comes three days after Aishwary combined with Deepak Kumar and Pankaj Kumar to win silver in the Men's 10m Air Rifle Team event.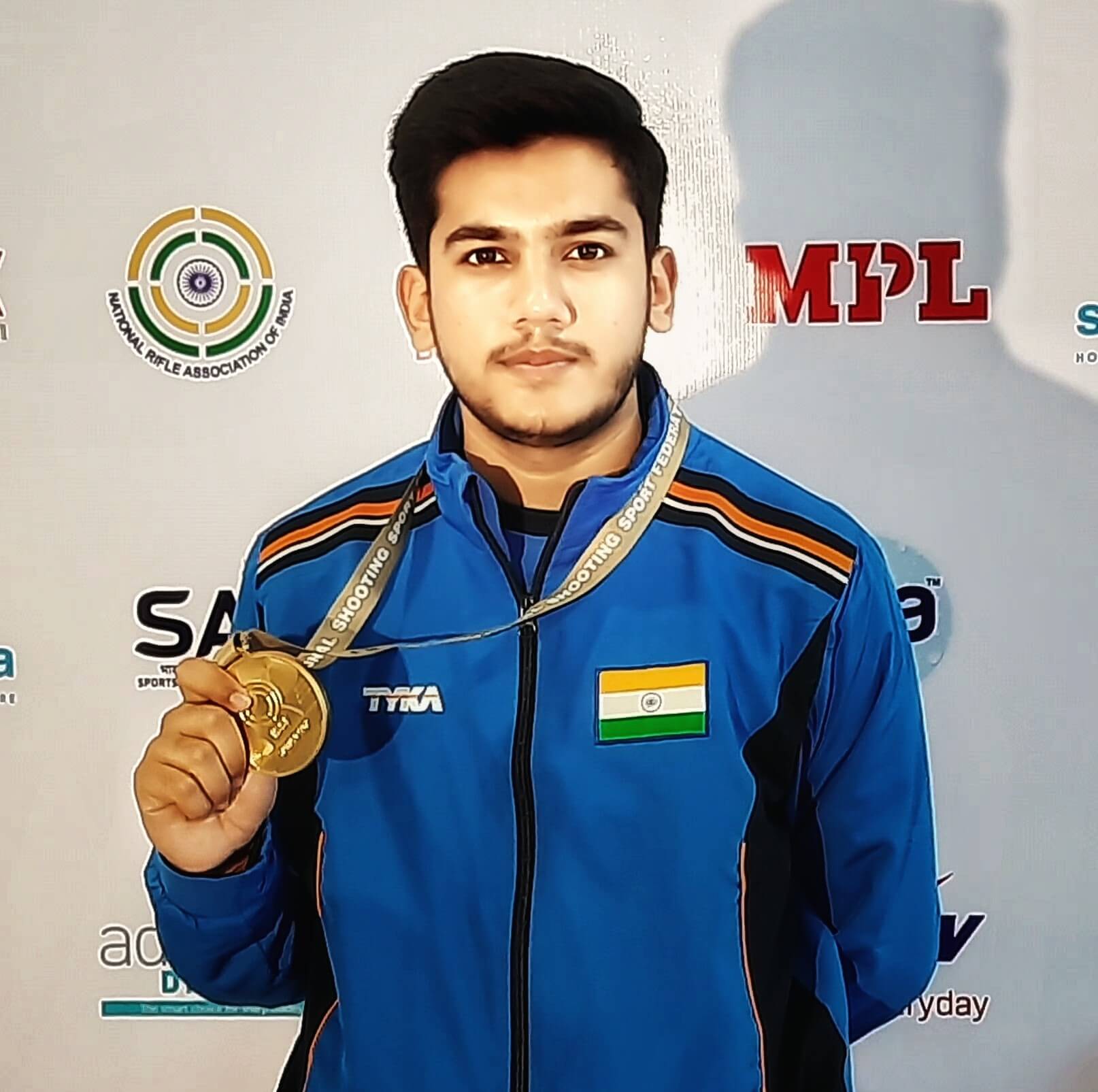 The other Indians in the final, veteran Sanjeev Rajput and Niraj Kumar, finished 6th and 8th respectively in a field of 33 shooters. Sanjeev led the qualification with 1172 while Aishwary and Niraj shot an identical score of 1165.
Aishwary had won the bronze at the 2019 Asian Shooting Championships in Doha to secure an Olympic quota.
Even though none of the three Indian shooters could make it to the finals in the women's event, India was sitting pretty on top of the medals table with nine gold, five silver and five bronze. US followed a distant second with three gold, two silver and a bronze.
Olympic quota winner Tejaswini Sawant shot 1164 to finish 12th while Anjum Moudgil was 16th with 1162. The third Indian shooter Sunidhi Chauhan shot 1161 to finish 17th in a field of 37 shooters.
The Results:
Men's 50m Rifle Three Positions: 1. Aishwary Pratap Singh Tomar (India) 462.5 (1165); 2. Istvan Peni (Hungary) 461.6 (1169); 3. Steffen Olsen (Denmark) 450.9 (1165; 6. Sanjeev Rajput (India) 413.3 (1172); 8. NIraj Kumar (India) 400.3 (1165). MQS: Swapnil Kusale (India) 1165; Chain Singh (India) 1159.
Women's 50m Rifle Three Position: 1. Ziva Dvorsak (Slovenia) 457.1 (1170); 2. Nina Christen (Switzerland) 455.1 (1171); 3. Aneta Stankiewicz (Poland) 443.5 (1179); 12. Tejaswini Sawant (India) 1164; 16. Anjum Moudgil (India) 1162; 17. Sunidhi Chauhan (India) 1161. MQS: Gaayathri Nithyanandam (India) 1159; Shreya Saksena (India) 1157.
[gview file="https://www.indianshooting.com/wp-content/uploads/3PM.pdf"]
[gview file="https://www.indianshooting.com/wp-content/uploads/3PM1.pdf"]
[gview file="https://www.indianshooting.com/wp-content/uploads/F000000IA2403211530.1.R3X40.0.001.pdf"]
[gview file="https://www.indianshooting.com/wp-content/uploads/Q000000IA2403211115.1.R3X40.0.001.pdf"]
Comments