Shahzar Rizvi won India's first medal at the ongoing ISSF World Cup at Changwon, Korea as he clinched silver in the men's 10m air pistol.
The 23-year-old, Shahzar, who won gold in his first appearance at the World Cup in Mexico, last month, fell short by just 0.2 point to win the yellow metal this time. He claimed the silver with a score of 239.8 in an interesting finals.
Shahzar, the World No. 2, trailed by 4.3 points after the 18th shot in the finals but caught up with some high 10s which included a perfect 10.9 on his 21st shot.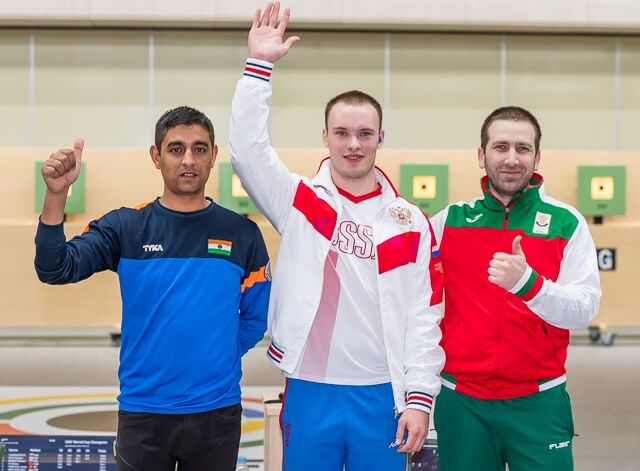 Earlier in the qualification, Shahzar shot a score of 582.
However, it was disappointment by 2018 Commonwealth Games medallists Om Prakash Mitharval and Jitu Rai as both of them could not make it to the finals.
While Mitharval finished 11th with 581, Jitu was further behind on the 38th spot with a below par 575.
Russia's Artem Chernousov clinched the gold with 240.0 in the finals while Bulgaria's Samuil Donkov took the bronze with 217.1.
In the men's trap, former World Champion Manavjit Sandhu finished 24th with a score of 117, missing the finals by 4 points.
Olympian Kynan Chenai shot 115 to finish 36th while Zoravar Singh Sandhu shot 114 to finish 41st in a field of 82 shooters.
Italy's Mauro De Filippis won the gold with 45 hits in the finals while Jiri Liptak of Czech Republic, who shot the best qualification score of 123, won the silver. The bronze was won by Yavuz Ilnam of Turkey with 34.
The Results:
Men's 10m Air Pistol: 1. Artem Chernolisov (Russia) 240.0 (584); 2. Shahzar Rizvi (India) 239.8 (582); 3. Samuil Donkov (Bulgaria) 217.1 (586); 11. Om Prakash Mitharval (India) 581; 38. Jitu Rai (India) 575. MQS: Tinjit Dhanota (India) 575.
Men's Trap: 1. Mauro De Filippis (Italy) 45 (122); 2. Jiri Liptak (Czech Republic) 42 (123); 3. Yavuz Ilnam (Turkey) 34 (122); 24. Manavjit Sandhu (India) 117; 36. Kynan Chenai (India) 115; 41. Zoravar Sandhu (India) 114. MQS: Mohammad Asad Sultan  (India) 110; Amit Gupta 103 (India).
Comments