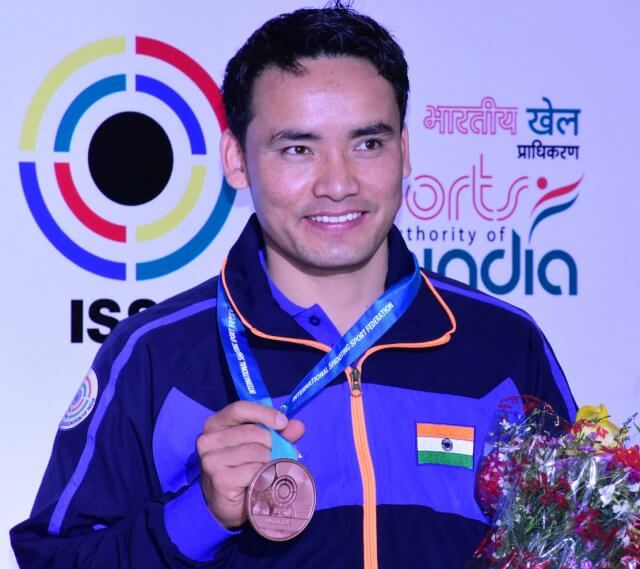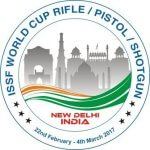 Jitu Rai staged a remarkable comeback to clinch the bronze medal in the Men's 10m Air Pistol at the ongoing ISSF World Cup in New Delhi.
The 29-year-old Jitu had a bad start in the finals and was placed seventh with a score of 98.7 after the end of the first competition stage. As the finals progressed, Jitu managed to avoid the elimination but was never in the top three till the very end.
With just four shooters remaining after the 18th shot in the finals, Jitu roared back with two consecutive shots on 10.6 to cover the 2.1 points lead and assured a bronze for India.
With his next shot on 9.9, Jitu took a lead of 0.1 point over current Olympic champion Hoang Xuan Vinh of Vietnam and was in the hunt for a silver. He needed a 9.3 or more on the 22nd shot to seal it but an 8.6 meant he had to be contend with the bronze, his seventh World cup medal so far.
"I had a bad start in the finals but I did not want to give up easily. I gave my best and fought till the end," Jitu said after his win.
Having shot his way back into contention today after a poor start, Jitu said he had a similar experience in a World Cup in Changwon, Korea.
"I had a similar experience in Korea. I played very well and hit 10 shots continuously to rise from last position. I am not scared of last position but I don't give up till the end."
The army shooter shot a score of 577 (97,96,93,98,97,96) to qualify for the finals with the sixth best qualification score.
The other Indian shooters in the fray, Omkar Singh shot 574 (98,95,96,98,95,92) to finish 14th while Amanpreet Singh — who was participating in a World Cup after a gap of three years — finished 19th with a score of 572 (97,94,95,97,95,94).
Prakash Nanjappa shot 582 (97,98,97,96,96,98) to register the highest qualification score but since the Olympian — who turned 40 today — was shooting in the Minimum Qualification Score (MQS) category, he was not eligible for the finals.
The second MQS shooter from India, Maninder Singh shot 567 (96,97,93,92,97,92).
The gold was won by 41-year-old Tomoyuki Matsuda of Japan. The two-time World Champion won his seventh World Cup gold while the current Olympic champion Hoang Xuan Vinh of Vietnam won the silver.
The Results:
Men's 10m Air Pistol: 1. Tomoyuki Matsuda (JPN) 240.1 (WR) 578; 2. Xuan Vinh Hoang (VIE) 23.6 (581); 3. Jitu Rai 216.7 (577); 14. Omkar Singh 574; 19. Amanpreet Singh 572. MQS: Prakash Nanjappa 582; Maninder Singh 567.
Comments