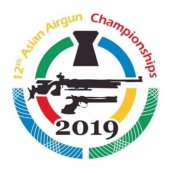 Manu Bhaker won the gold medal in women 10m air pistol at the 12th Asian Airgun Championship 2019 in Taoyuan, Chinese Taipei.
The 16-year-old, who shot in the second best qualification score of 575, registered 239.0 in the final to claim the top spot.
It was the second gold for Manu in the ongoing competition, who had earlier won the mixed air pistol gold with Saurabh Chaudhary, with a new world record in qualification.
Shri Nivetha was the other Indian shooter to make the final after shooting 561 but finished 6th.
The Indian trio of Manu, Nivetha and Anuradha (556) took the team bronze with 1702. The gold was won by Korea while Chinese Taipei won the silver.
In men 10m air pistol, Abhishek Verma won the silver while Olympic quota winner Saurabh Chaudhary, who topped the qualification with 587, finished 4th after loosing a shoot-off.
A penultimate shot of 10.7 saw Abhishek, the Asian Games bronze medallist, bridge the gap to 0.3 against Korea's Kim Mose but could only manage a 9.3 on the last shot and lost the gold by a narrow margin of 0.2 point.
Another Indian shooter in the event, Ravinder Singh, also made the final with 578, and thus the Indian trio won the team gold with a score of 1742. Korea won the silver while Chinese Taipei took the bronze.
The Results:
Women's 10m Air Pistol: 1. Manu Bhaker (India) 239.0 (575); 2. Ho Ching Shing (Hongkong) 237.9 (572); 3. Wafa Alali (UAE) 216.8 (571); 6. P. Shri Nivetha (India) 155.6 (571); 11. Anuradha (India) 556. Team: 1. Korea (1707); 2. Chinese Taipei (1706); 3. India (1702).
Men's 10m Air Pistol: 1. Kim Mose (Korea) 240.9 (583); 2. Abhishek Verma (India) 240.7 (577); 3. Lee Taehwan (Korea) 218.1 (579); 4. Saurabh Chaudhary (India) 198.8 (587); 7. Ravinder Singh (India) 136.3 (578). Team: 1. India (1742); 2. Korea (1730); 3. Chinese Taipei (1705).
Comments