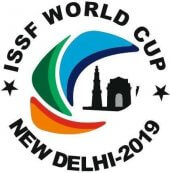 Teenage shooting star Saurabh Chaudhary smashed the World Record on his way to win the gold medal and an Olympic Quota for India in Men's 10m Air Pistol at the ISSF World Cup in New Delhi.
The 16-year-old Asian Games Champion, Youth Olympic Champion and Junior World Champion, Saurabh shot an impressive qualification score of 587 and followed it with 245.0 in the final to set a World Record. Saurabh now holds both junior and senior World Records, interestingly his junior record is 0.5 point better than senior.
I was not thinking about the world record. If I had thought about making a record then it would not have been possible, neither was I thinking about the Olympic quota, I just wanted to give my best,ÔÇØ Saurabh said after the win.
This is India's second gold medal at this World Cup after the gold in women's 10m air rifle won by Apurvi Chandela yesterday.
Saurabh shot 51.2 to take the joint-top spot with Serbia's Damir Mikec after the first five shots. After ten shots, the champion shooter registered 102.2 to take a lead of 2.6 points. Saurabh increased his lead by 4.4 after the 14th shot. He maintained his lead till the very end and finally sealed the gold with a huge margin of 5.7 points.
The silver was won by Damir with 239.3 while the 2008 Olympic Champion Pang Wei of China took the bronze with 215.2.
It was the third Olympic quota for the Tokyo 2020 Olympics for the Indian shooters, after the ones won in Women 10m Air Rifle by Apurvi and Anjum Moudgil at last year's World Championship.
Other Indians in the event, Asian Games bronze medallist Abhishek Verma (576) and Ravinder Singh (576) finished 24th and 26th respectively in a  strong field of 76 participants.
The Results:
Men's 10m Air Pistol: 1. Saurabh Chaudhary (India) 245.0 WR (587); 2. Damir Mikec (Serbia) 239.3 (586); 3. Pang Wei (China) 215.2 (587); 24. Abhishek Verma (India) 576; 26. Ravinder Singh (India) 576. MQS: Om Prakash Mitharwal (India) 578.
Comments