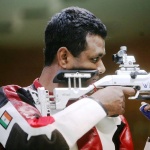 The National Rifle Association of India (NRAI) recently made an interesting announcement, one which had many a shooters at their wits' end. The announcement made was about something, which has been a prickly issue with athletes the world over – sponsorship and endorsement deals.
NRAI said that shooters must put their endorsement and sponsorship deals on the backburner and concentrate on the 2020 Tokyo Olympics, else they risk losing their spots in the Olympic-bound team, seemingly ruffled quite a few feathers.
This led to a flurry of activity on social media, and while shooters themselves refrained from commenting for fear of reprisal from one of the most powerful sport bodies in the country, those who felt it was a wrong move, did not hide behind the veneer of niceties.
At long last, shooters, many of them coming from poor and middle-class backgrounds, were getting, or hoping to get, their dues for years of hard labour. And this statement they felt was a direct attack on their right to make some money.
Endorsements are lifeblood of an athlete. Youngsters in India take up the sport for only three things – a government job, money and off-course recognition. And since cricket grabs all the attention and big endorsement deals, other sports have to survive on peanuts.
And, here, the shooters are being told they would have to forgo those peanuts as well.
Shooting is one of the more expensive Olympic sport and competition is so fierce that getting into the national squad requires hours of training and exhausting every rupee in the pocket. And if you are told that you have to put your endorsement/sponsorship deals in abeyance till the Tokyo Games, it certainly is a akin to infringing on a fundamental right – to earn money, to earn a livelihood by rightful means.
Someone like Abhinav Bindra could afford to spend a fortune in his quest to win the country's first Olympic gold as his father had the resources. And even after that successful journey, sponsorship deals were few and far between for the Zirakpur boy.
By issuing the diktat, the NRAI is making us believe that sponsors are queuing up outside it's office with blank cheques for its shooters. The picture is far from rosy. There is practically no corporate support. Being in the national squad for a long time, I have first-hand experience of this. Corporates do not want to associate with a sport which has no mass following. So, if some corporate house shows interest in sponsoring the shooters, they should just smile and accept it without fuss.
Pistol shooter Rahi Sarnobat, the 2018 Asian Games champion, exhausted all her life's savings to pay for the services of a foreign coach and rehabilitation after a debilitating injury. Vijay Kumar, even after winning silver at the 2012 London Olympics, had no sponsor or even a job after he left the Army. His troubles ended recently when he was finally appointed DSP in Himachal Pradesh. His only association probably with a sponsor was when I introduced him and Olympic bronze medallist Gagan Narang to the Manav Rachna International University in Faridabad.
Tokyo Olympic Games quota winner Sanjeev Rajput, a two-time Olympian and winner of multiple Asian Games, Commonwealth Games and World Cup medals, is jobless and without a sponsor. Such situations cause frustration and affect a shooter's performance.
Over the years, I have realised it's not easy 'selling' a shooter to a corporate as shooting sport is still not popular among the masses. But with teenage shooters drawing attention with some brilliant performances in the last two years, it has garnered some corporate support. These are basically startups, not the traditional sponsors with deep pockets, who want to ride on the success stories of these teenagers and build their brand in the run-up to the greatest show on earth, the Olympics.
What the NRAI is trying to enforce, does not happen anywhere in the world. Globally, athletes have their own marketing arrangements and agents who strike the best possible deals for them. And talking about performance suffering owing to sponsorship deals, is something I'll take with more than a pinch of salt. Athletes like Usain Bolt, Michael Phelps, Simone Biles, Virat Kohli, to name a few have several multi-million dollar contracts and they didn't stop performing. So why would Indian shooters, with a few lakh in their pockets stop performing?
Young Indian shooters are travelling around the world and they come across fellow mates who have fat endorsements and are excelling on the big stage. These youngsters also know that their shelf life is getting shorter with every passing year as more youngsters come through the supply line. So it's important to make hay while the sun shines.
If NRAI wanted, it could have brought some sponsorship deals for it's shooters. Unfortunately, it has not tried to work on that front. So, why stop shooters from seeking endorsements/sponsors or sponsors seeking out shooters.
I wish and hope shooters, who spend 6-8 hours a day, standing, eyes focused on the target and aiming for a better life through shooting sport are not be deprived of a livelihood.
The writer is a former India shooter.
Comments