Indian shooters registered a 1-2-3 finish in the Men's 10m Air Pistol with Shahzar Rizvi claiming gold medal ahead of accomplished Omkar Singh and Jitu Rai who won silver and bronze in the Commonwealth Shooting Championship in Brisbane.
In the Women's 10m Air Rifle, Pooja Ghatkar and Anjum Moudgil made it a one-two for India after winning gold and silver respectively. The third Indian in the event, Meghana Sajjanar finished 5th after shooting a score of 183.8 in the finals.
The 28-year-old Pooja, who had missed the finals by a mere margin of 0.1 point at the ISSF World Cup Final recently, finished strongly to beat Anjum by 1.1 point to claim the title. In the qualification Pooja, shot 615.3 (103.6, 104.8, 103.2, 103.7). Martina Lindsay Veloso Neo of Singapore won the bronze with a score of 224.8.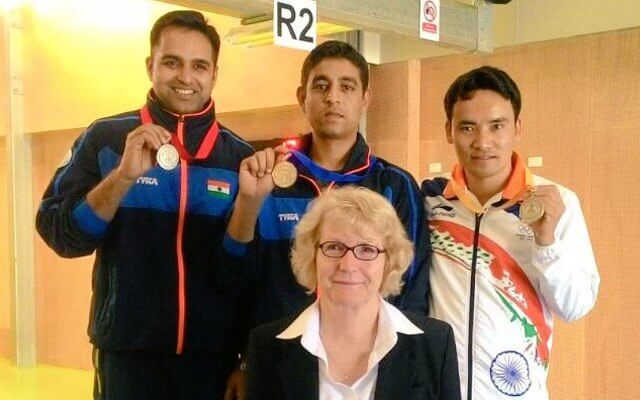 Earlier, 23-year-old Shahzar topped qualification in the Men's 10m Air Pistol with a score of 581 (96,97,98,96,96,98), Omkar Singh shot 576 (94,94,99,97,93,99) while Jitu registered a below par score of 571 (95,96,96,95,94,95).
In the finals, Shahzar, who had won the junior gold in the Asian Championship last year, shot well towards the end to clinch the yellow metal with a margin of 4.7 points ahead of Omkar who won silver with a score of 236.0 while Jitu took the bronze after shooting 214.1.
Indian shooters finished the day with five medals adding to the gold and bronze medal won on the opening day.
The Results:
Men's 10m Air Pistol: 1. Shahzar Rizvi (IND) 240.7 (581); 2. Omkar Singh (IND) 236.0 (576); 3. Jitu Rai (IND) 214.1 (571).
Women's 10m Air Rifle: 1. Pooja Ghatkar (IND) 249.8 (415.3); 2. Anjum Moudgil (IND) 248.7 (414.1); 3. Martina Lindsay Veloso (SGP) 224.8 (417.5); 5. Meghana Sajjanar (IND) 183.8 (416.6).
Comments