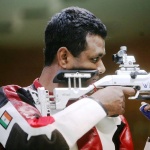 That image of a dhoti-kurta clad middle-aged man with a bunch of teenage boys and girls from rustic background walking past confidently will always remain etched in my memory. Be it any corner of the country — from the easily-accessible Dr. Karni Singh Shooting Range in Tughlakabad (Delhi) to the remote ranges in Kerala – he was omnipresent.
I have been seeing Dr. Rajpal Singh — a person committed to shooting sport — for over two decades, working tirelessly with the single-minded commitment to his mission of helping youngsters across the northern belt earn a decent livelihood to overcome their generations of poverty.
A former international shooter hailing from Johri village in the Baghpat district of Uttar Pradesh, Dr. Rajpal, in his more than two decades of what he calls his "life's mission", virtually turned the scores of sleepy villages in Baghpat district into a nursery of shooters. Had it not been for the helping hand Dr. Rajpal extended to the village folk, one wouldn't have seen the kind of revolution Indian shooting sport is witnessing today, though only a very few acknowledge his immense contribution.
He started his mission in the deserted courtyard of a mosque in his native village Johri, installing rusting pulleys and targets others had thrown away after they'd served their purpose. And with whatever little money he had, Rajpal invested in youth, buying and borrowing a couple of second-hand air pistols and air rifles to train those whose parents didn't even have the resources to give them two square meals a day.
There was strong opposition from village elders. "They (village elders) thought I was promoting more lawlessness in the district by teaching them the art of shooting. But being a respected elder myself, I convinced them that it was only for the betterment of the new generation. They would get the skills to earn a livelihood," says Dr. Rajpal.
There, standing under the shade of a huge banyan tree, children of vegetable sellers, brick-kiln workers, daily wagers and poor farmers, started learning an art, which would rid them of the insecurities that come with generations of repression. They were there at the makeshift range in tattered shirts, worn-out trousers and sports shoes taking aim at half-a-dozen targets roughly 10 metres away from the firing station built with discarded wooden planks.
They were happy to wait for their turn for hours as long as they got the opportunity to just hold the air pistol and fire a few lead pellets. Many went back home without even getting the opportunity to hold the pistol. "With just a couple of air pistols, it was impossible to give everyone a chance. So, we devised our own methods of training. We ordered dummy air pistols made of cast iron from local foundries. They didn't fire, but they were good for training, hand-eye co-ordination, sighting etc. We told children to hold bricks, sugarcane stalks, brooms just to give them a feel of the air pistol and also build muscles in their arms," says Dr. Rajpal.
The children knew he would be the one who would transform their lives.
The year was 1998 when he started off and within 3-4 years, there was a sizeable number of shooters from Baghpat trickling into the Dr. Karni Singh Shooting Range. They were shy and hardly ever mingled with others. Initially, they were no match to the regulars at the range and didn't have the required equipment. Nonetheless, they were not willing to give up.
Rajpal, then in his early-50s, was the driving force, herding the children in his weather-beaten Toyota Qualis and bringing them to the Ranges, keeping track of everyone's scores and giving mundane instructions before competition. The scores started improving and with the passage of time many became regulars at national competitions, vying for the top honours.
But his mission was not to create champions; if they became champions, it was a bonus. He wanted to give them a skill, which would help them earn a livelihood. A whole lot of young boys and girls started getting jobs in the Army, Navy, police forces across states, Indian Railways and Air India, among others. Some came back to pay him regard, others simply forgot and moved on in life. "I suppose it's a curse of this region. People here don't acknowledge others' contribution. But that hasn't stopped me from wavering from my mission," he says.
Today, that hurried walk of 20 years back has been replaced by a slow, laboured amble. Dr Rajpal walks with the help of a stick. He is in his early 70s, and though his visits to the shooting venues have come down, he still makes an occasional appearance. The makeshift range at the mosque has closed down and now he sparingly coaches young boys and girls in a slightly more modern environment. He has built a proper range on his farmland and donated it to the Sports Authority of India. A couple of SAI coaches train the wards, though he makes it a point to keep a watchful eye on the goings on.
The stream of children entering and leaving the range is the same. Seeing Saurabh Chaudhary from a nearby village make it big, has given their ambitions wings, though the primary aim still is to earn a decent living. Hundreds of children in the last 20 years have settled down in government jobs while many more have made an impact in national and international competitions. Those who couldn't get either jobs or medals, have opened small shooting clubs all across Baghpat, which have become the epicentre of shooting activity in the country.
"Saurabh Chaudhary's coach, Amit Sheoran, has trained at my old range in the mosque for three years. Chaudhary came to us initially but we advised him to choose a range closer home. It doesn't matter whether Sheoran or I train him, the end result matters. Sheoran has opened a rifle club in Benoli and is doing well. Like him, dozens of shooters who trained here have opened clubs across Baghpat and are helping bring talent to the fore," says Dr Rajpal. "Amit Sheoran's relative, Neetu Sheoran, is the SAI-appointed coach at my range," he adds.
The exploits of shooters in the region have not gone unnoticed and several documentaries and reams of newsprint are an offshoot of this success story.
"I believe some big Bollywood banner is making a movie on two grand old ladies from our village, turning their story into a biopic. I remember the time in 1998 when I used to go around villages in Baghpat asking people to send their daughters also to the Johri range. My aim was to empower girls with skills so that they could fend for themselves. But it's a patriarchal society and convincing parents was next to impossible," says Dr. Rajpal.
"Since convincing elders was a big problem, I asked two elderly ladies from the village to accompany me to persuade sceptical parents. That helped and a lot of young girls started taking up the sport. Many are doing really well in life; some became international shooters, one of them became an Air India manager, many more joined the Railways and police forces in different states," says Dr Rajpal, adding, "Today, 90 per cent of the children training at my range in Johri are girls. One of them is the brand ambassador of Swachh Bharat.
"The two elderly ladies, Chandro and Prakashi Tomar, started being called 'Shooter Dadis' because of the huge publicity they got. My humble request to whosoever is making a movie or documentary is to not glorify something that never happened. This defeats the purpose of my mission; 'speak truth, portray truth and keep your target in sight'. We are people rooted to the ground and prefer it that way. A wrong portrayal leaves a distorted image of things/circumstances on the minds of impressionable children. The contribution of Chandro and Prakashi in convincing parents is laudable but their shooting exploits have been blown out of proportion," says Dr. Rajpal.
"I can't remember any shooter in the world having won 700 medals, and here they are being projected as having won hundreds of medals even though they haven't even competed in a single national championship or top tournament in the country. Want proof? Ask for the list of medals they've won from the national shooting federation. There'll be none," he says.
The writer is a former India shooter.
Comments