Sanjeev Rajput and Shahzar Rizvi won the 10m air rifle and air pistol events respectively at the International Online Shooting Championship on Saturday.
The two-time Olympian Sanjeev shot an excellent 252.6, which is 0.2 point less than the world record, in the final to finish on top in 10m air rifle.
Martin Strempfl of Austria, who shot the best qualification score of 629.3, was second with 251.7 while Etienne Germond of France claimed the third spot with 230.1.
World number one Divyansh Singh Panwar finished 5th.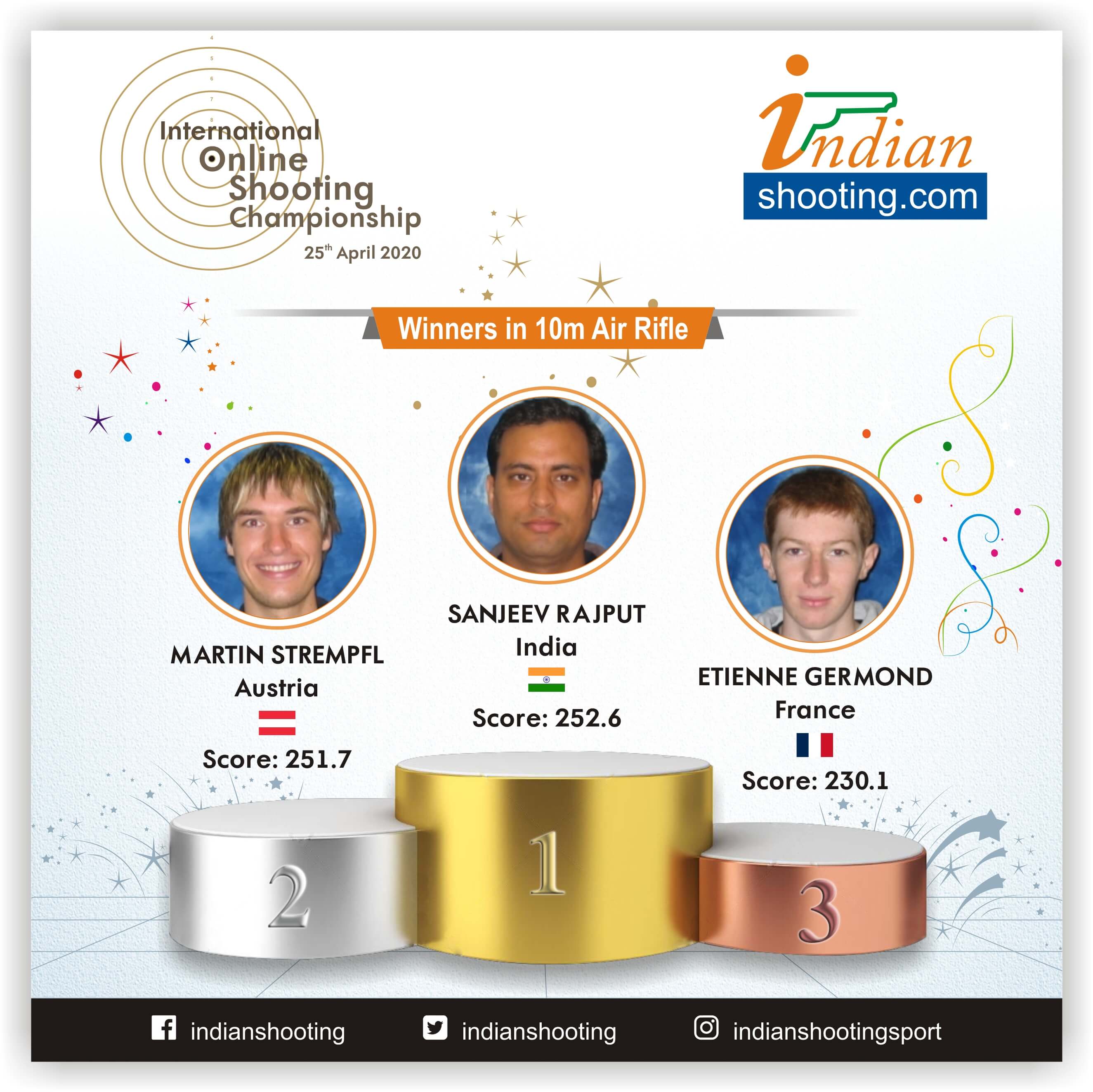 In the 10m air pistol event, the former World No.1 Shahzar shot 241.7 to claim the top spot. Compatriot Amanpreet Singh, who shot the best qualification score of 586, came second with 241.5 while Scotland's Lucy Evans finished third after scoring 214.9.
Olympic quota winner Veronica Major of Hungary shot 563 to finish 9th.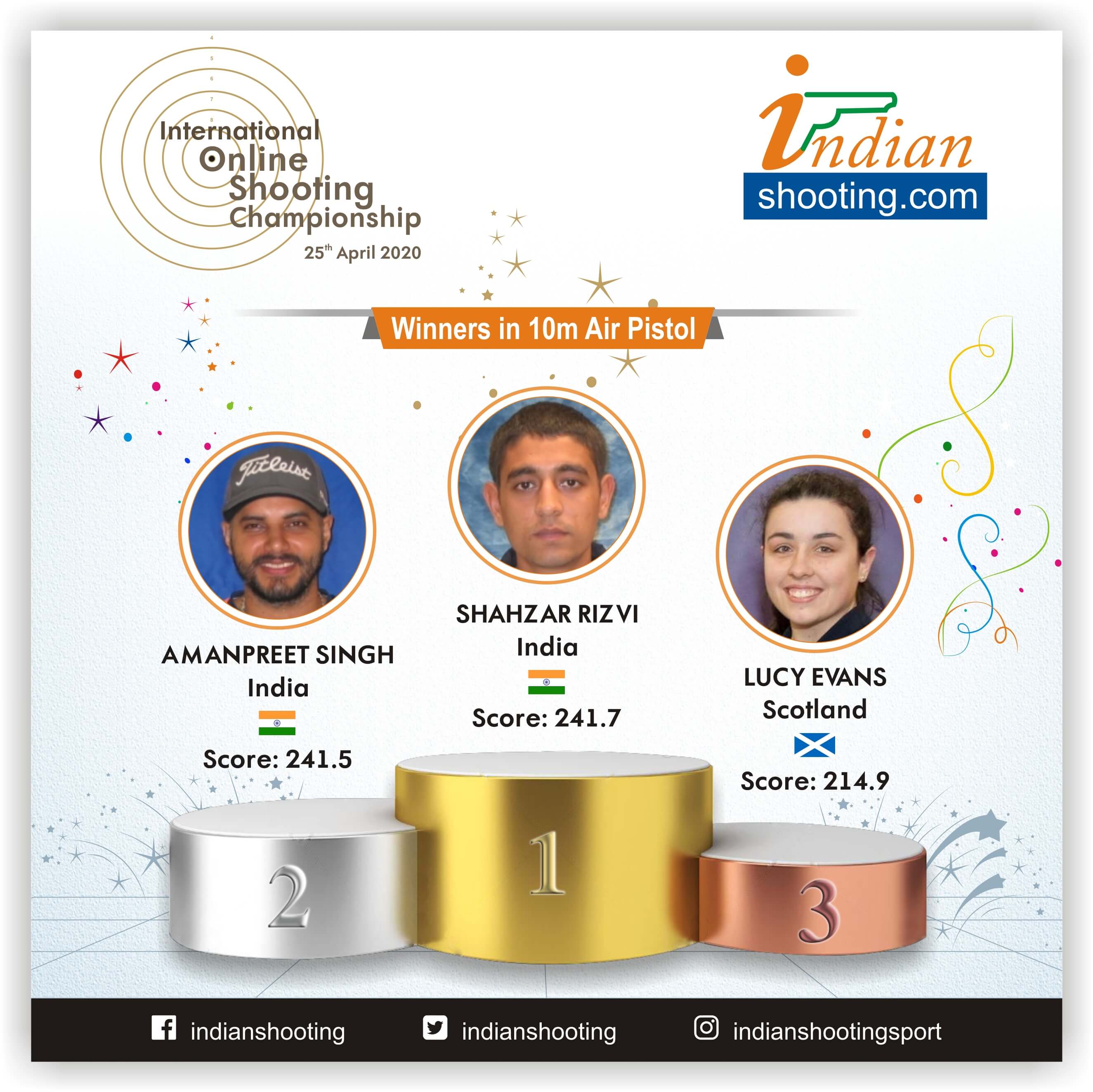 The innovative event is an initiative of former India shooter Shimon Sharif to help the athletes from around the world get a feel of competition during the coronavirus-forced lockdown in many countries.
The competitors logged in through Zoom app from their respective locations and shot using their Electronic Scoring Targets.
The competition was live-streamed on the Facebook page of indianshooting.com.
Former India shooters Joydeep Karmakar and Shimon were on commentary while several prominent Indian and international coaches joined in through video chats.
The special guest in this edition was a young national shooter Kritika Karmakar, who is undergoing treatment for cancer in a Kolkata hospital. From her hospital bed, the ailing shooter joined the proceedings through Zoom App, and expressed her delight at being part of an innovative initiative.
"I am too glad to be here. I am missing shooting very much," she said smiling, as one of the competing shooters called her the real champion.
"It's a great opportunity to be with you all. Seeing you all I am feeling very happy," the shooter, who is undergoing chemotherapy, added.
The Results:
10m Air Rifle: 1. Sanjeev Rajput (IND) 252.6 (626.9); 2. Martin Strempfl (AUT) 251.7 (629.3); 3. Etienne Germond (FRA) 230.1 (627.2); 4. Yash Vardhan (IND) 208.9 (626.3); 5. Divyansh Singh Panwar (IND) 186.1 (624.5); 6. Nachiketh Praveen (IND) 164.8 (623.1); 7. Nagybanyai-Nagy Anna (HUN) 138.8 (622.1); 8. Homanshika Reddy (IND) 0 (620.2).
10m Air Pistol: 1. Shahzar Rizvi (IND) 241.7 (579); 2. Amanpreet Singh (IND) 241.5 (586); 3. Lucy Evans (SCO) 214.9 (566); 4. Emilia Faulkner (SCO) 195.8 (571); 5. Laszlo Hegedus (HUN) 176.2 (563); 6. Anish Bhanwala (IND) 156.6 (569); 7. Klaudia Palanki (HUN) 136 (568); 8. Gaurav Rana (IND) 108.6 (579).
Comments