India's Seema Tomar gave an impressive performance by registering the second highest qualification score in women's trap on the opening day of the ISSF World Cup in San Marino.
Ranked 31 in the world, Seema shot a perfect last round of 25/25 to also match her personal best of 72 which she had shot at the Asian Shotgun Championship at Al Ain in 2014, where she had won the gold.
The 32-year-old shot a series of 24, 23 and 25 to qualify for the top six. In the semifinals she could only manage 8 hits and finished 5th.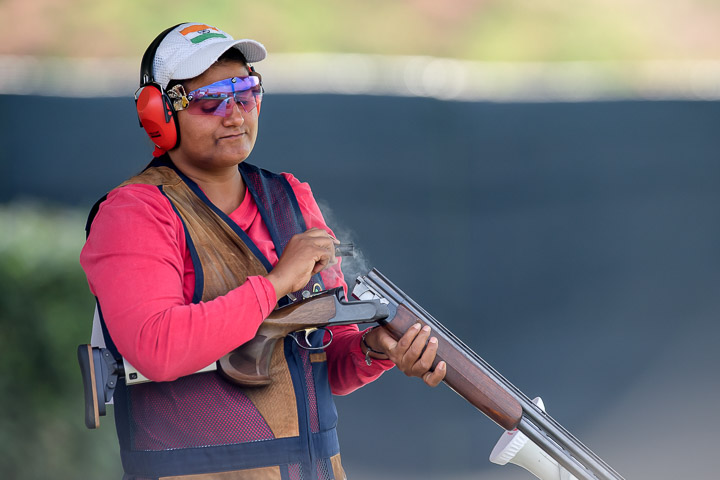 Before leaving for the competition, Seema had trained on her won for two weeks in Delhi.
Speaking exclusively to indianshooting.com, Seema Tomar said, "I am feeling very sad to miss the medal. I love shooting in the finals but today I was not able to focus on the targets. I just could not see them properly. I think I should have done some changes in my gun mount before the finals. I had trained very hard and on my own for two weeks in Delhi. It was really hot at the Dr. Karni Singh Range but I enjoyed it".
Last time when Seema qualified for the top six at an ISSF World Cup in Dorset back in 2010, she created history after she became the first Indian woman to win a shotgun silver in an ISSF World Cup.
Emma Elizabeth Cox of Australia who shot a point more than Seema in the qualification today, won the gold, her first World Cup medal.
Dueling for Gold, Cox shot 13 targets out of 15, leaving the 2008 Olympic bronze medallist and current world record holder Corey Cordell of USA in second place two clays behind her, with 11 hits. The bronze was won by Carole Comelier of France.
Rajeshwari Kumari shot 67 (21,23,23) to finish 16th while Shreyasi Singh shot 63 (18,22,23) to finish 38th in a field of 60 shooters.
The Results:
Women's Trap: 1. Emma Elizabeth Cox (Aus) 13 (12) 73, 2. Corey Cordell (USA) 11 (12) 70, 3. Carole Comelier (Fra) 13 (10) 71, 5. Seema Tomar (8) 72, 16. Rajeshwari Kumari 67, 38. Shreyasi Singh 63.
Comments