Vijayveer Sidhu won the gold medal in junior men's 25m standard pistol on the final day of the 52nd ISSF World Championship in Changwon, Korea.
The 16-year-old Vijayveer, who finished 4th in 25m pistol on Thursday in which his twin brother Udhayveer bagged the gold, shot a score of 572/600 to win the junior world title.
Rajkanwar Sandhu shot 564 to finish 4th while the third Indian in the event, Adarsh Singh, finished 10th with 559.
The silver was won by Gunheyok Lee of Korea with 570 while China's Zhu Haojie took the bronze with 565.
The trio of Vijayveer, Rajkanwar and Adarsh also claimed the team gold for India with a total of 1695/1800.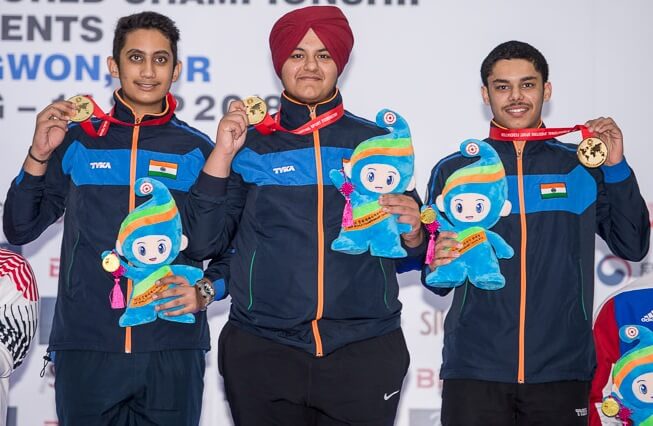 The silver was won by Korea with 1693 while Czech Republic took the bronze with 1674.
Gurpreet Singh wins silver in 25m Standard Pistol
Olympian Gurpreet Singh claimed the silver medal in the men's 25m standard pistol.
Gurpreet shot 579 to finish second behind Ukraine's Pavlo Korostylov who shot 581. The bronze was won by Junhong Kim of Korea, who shot the same score as Gurpreet but had lesser inner 10s.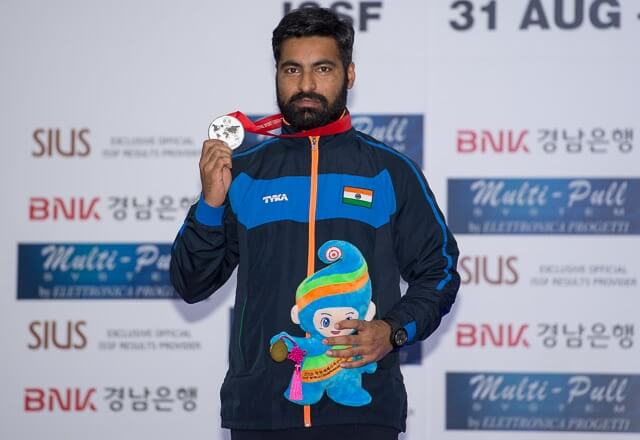 The two other Indians in the event, Amanpreet Singh and Olympic silver medallist Vijay Kumar both shot 560 to finish 25th and 26th respectively. Amanpreet took the higher rank as he had more inner 10s than Vijay.
The Indian team of Gurpreet, Amanpreet and Vijay shot 1699 to finish 4th in the team event. The gold was won by France with 1716. Korea won the silver with 1709 while bronze was won by Ukraine with 1704.
India finished third in the medals tally with a total of 27 medals which includes 11 gold, 9 silver and 7 bronze, making this India's best ever performance at the World Championship.
The Results:
Junior Men's 25m Standard Pistol: 1. Vijayveer Sidhu (India) 572; 2. Lee Gunhyeok (Korea) 570; 3. Zhu Haojia (China) 565; 4. Rajkanwar Sandhu (India) 564; 10. Adarsh Singh (India) 559.
Junior Men's 25m Standard Pistol Team: 1. India (1695); 2. Korea (1693); 3. Czech Republic (1674).
Men's 25m Standard Pistol: 1. Pavlo Korostylov (Ukr) 581; 2. Gurpreet Singh 579; 3. Kim Junhong (Kor) 579; 25. Amanpreet Singh (India) 560; 26. Vijay Kumar (India) 560.
Men's 25m Standard Pistol Team: 1. France (1716); 2. Korea (1709); 3. Ukraine (1704); 4. India (1699).
Comments