Udhayveer Sidhu won the gold medal in junior men's 25m pistol on the penultimate day of the 52nd ISSF World Championship in Changwon, Korea.
The 16-year-old Udhayveer shot a score of 587/600 to claim the junior world title with a clear margin of three points.
Udhayveer's twin brother Vijayveer Sidhu finished 4th with a score of 581 while the third Indian in the event, Rajkanwar Sandhu, shot 568 to finish 20th.
The silver was won by Henry Turner Leverett of USA with 584 while Korea's Jaekyoon Lee won the bronze with 582.
The Indian trio of Udhayveer, Vijayveer and Rajkanwar registered 1736/1800 to win the team gold, six points ahead of China. The bronze was won by Korea with 1721.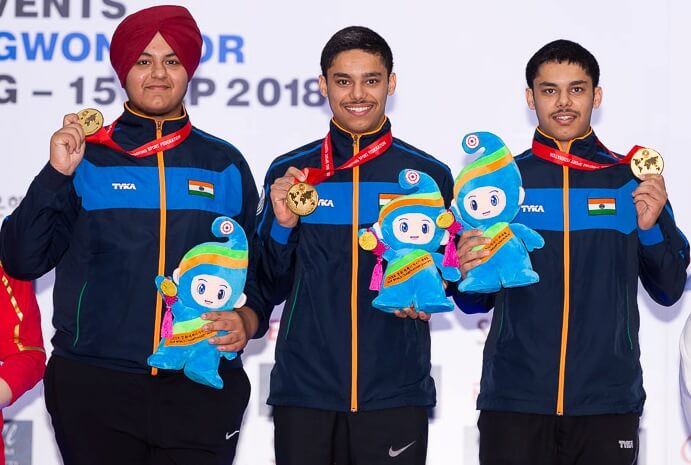 The team gold was no surprise as the same team had also won gold with a world record of 1747 at the ISSF Junior World Cup in Suhl, Germany, in June this year. The elder of the twins, Udhayveer had also won an individual bronze edging out brother Vijayveer to the fourth position in the same competition.
Earlier this year, Vijayveer pipped Udhayveer to win the silver in 10m air pistol at the 1st Khelo India School Games held in Delhi.
The double gold in today's event took India's tally to 24 medals with 9 gold, 8 silver and 7 bronze medals.
The Results:
Junior Men's 25m Pistol: 1. Udhayveer Sidhu (India) 587; 2. Henry Turner Leverett (USA) 584; 3. Jaekyoon Lee (Korea) 582; 4. Vijayveer Sidhu (India) 581; 20. Rajkanwar Sandhu (India) 568.
Junior Men's 25m Pistol Team: 1. India (1736); 2. China (1730); 3. Korea (1721).
Comments