Ankur Mittal crowned himself as the World Champion in men's double trap at the 52nd ISSF World Championship in Changwon, Korea.
The 26-year-old Ankur came up with a perfect last round of 30 to register a score of 140/150 to go into a shoot-off for gold with China's Yang Yiyang and Slovakia's Hubert Andrzej Olejnik. The World No. 1 Ankur overcame the Chinese 4-3 for his career's biggest win so far. Hubert settled for the bronze after missing the second target.
Ankur is the fifth Indian to win a gold at the World Championship after Abhinav Bindra (2006), Manavjit Sandhu (2006), Tejaswini Sawant (2010) and Om Prakash Mitharval (2018).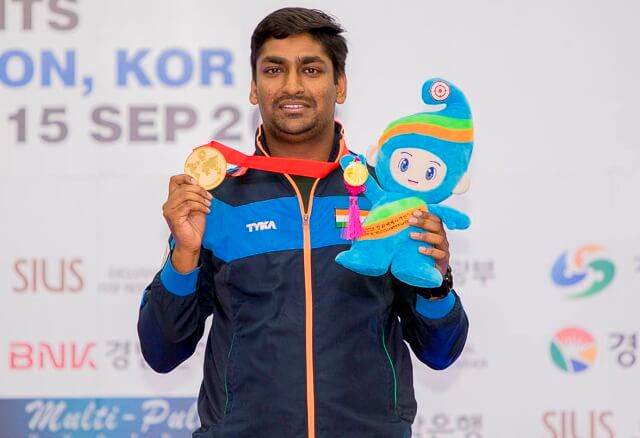 Mohd. Asab shot 135 to finish 7th while the 15-year-old Asian Games silver medallist Shardul Vihan finished 15th with 134.
The trio of Ankur, Asab and Shardul won the team bronze with 409. Italy won the gold with 411 while China took the silver with 410.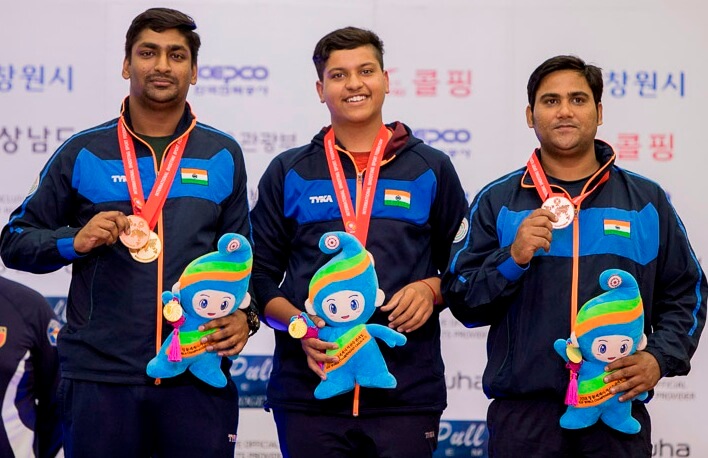 Ankur had won a bronze medal in 2018 Commonwealth Games, but couldn't make his mark in the Asian Games. Last year, Ankur won multiple international medals including a gold and silver at the ISSF World Cups held in Acapulco and New Delhi respectively. Ankur had also won the silver in the Shotgun World Championship in Moscow.
Interestingly, India's first-ever shooting medal at the Olympics had come in men's double trap, when Rajyavardhan Rathore won the silver at Athens in 2004. Rajyavardhan, who had won bronze at the Shotgun World Championship in 2003, is the only other Indian to win a medal in double trap at the Worlds.
After the seventh day of competition, India has won 20 medals — 7 gold, 7 silver and 6 bronze — putting them in the second position behind Korea and ahead of China.
The Results:
Men's Double Trap: 1. Ankur Mittal (India) 140 (4); 2. Yang Yiyang (China) 140 (3); 3. Hubert Andrzej Olejnik (Slovakia) 140 (1); 7. Mohd. Asab (India) 135; 15. Shardul Vihan (India) 134.
Men's Double Trap Team: 1. Italy (411); 2. China (410); 3. India (409).
Comments