Former India shooter Shimon Sharif is a proud man these days. Not only is he getting accolades for his innovation of online shooting in these times of the pandemic; shooters of his academy too are making waves in international competitions across the world.
At the forefront is 16-year-old Visnu Shivaraj Pandian, who has been in terrific form of late. A shooter of the Delhi-based Topgun Shooting Academy, run by Shimon, Visnu got silver in junior men's 10m air rifle at the Pyramids Open organised by the Egyptian Shooting Federation. Another shooter who trains at Shimon's academy, 15-year-old Pratyush Aman Barik finished 4th.
The two teenagers were the only Indians to make the cut for the finals in the event.
Visnu finished 0.3 points behind gold medallist Tianrui Gai of Singapore's score of 248.5, making it a neck-and-neck between the two. It was a valiant comeback by Visnu as he did not have a great start and lay sixth after 10 shots but burst into the top three after the 12th shot. Making steady progress, he was tied for the lead after the 14th shot with a score of 149.9. The lead kept changing hands after that as Visnu and Gai fought tooth and nail. The young Indian surged ahead after the 16th and 20th shots and even scored a near perfect 10.8 on his final shot but Gai was the better shooter on this day with a score of 248.5.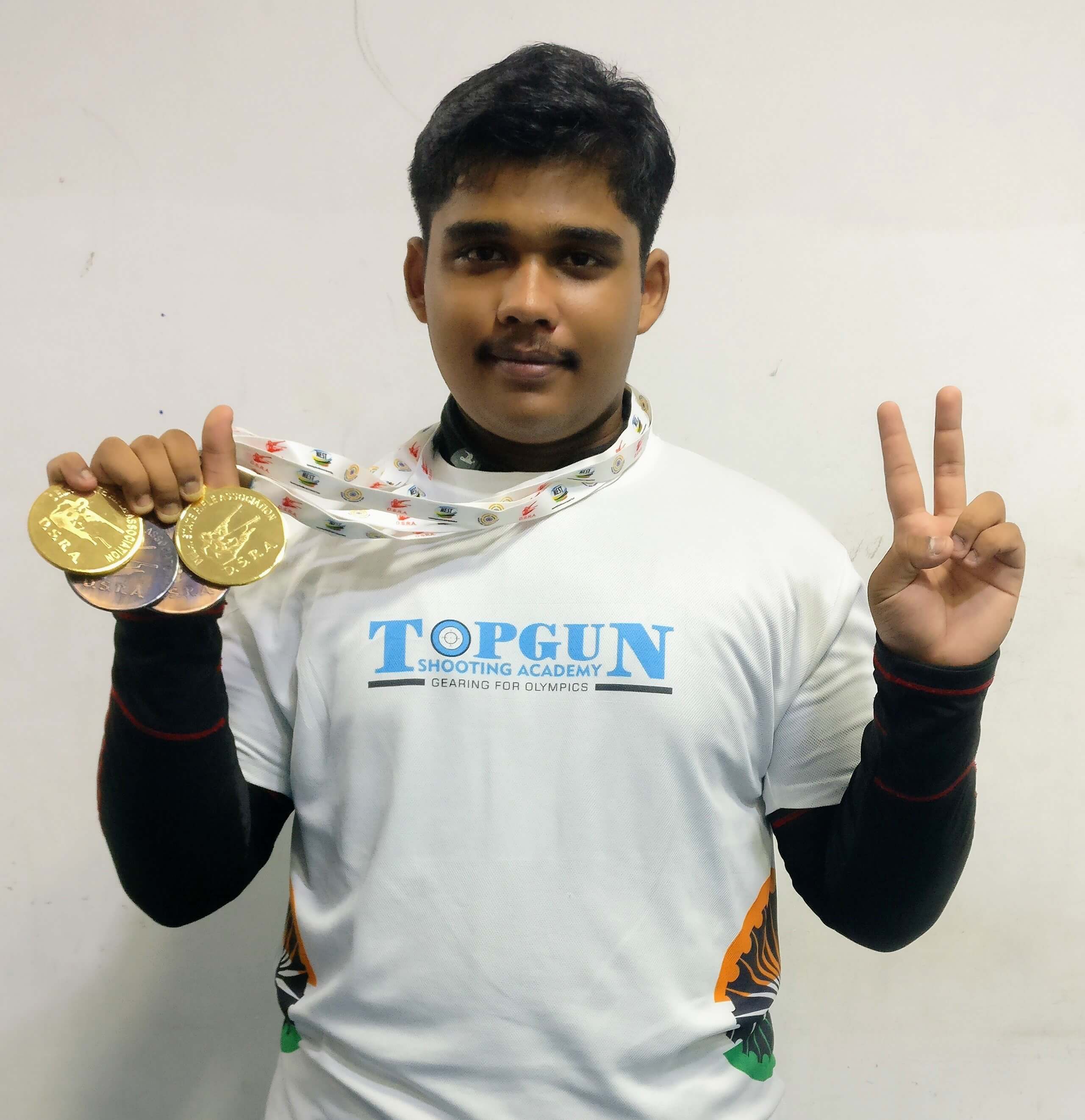 The 15-year-old Pratyush too had his chances and was in the lead after the 12th shot and figured among the top three till the 18th shot but a poor 8.8 on the 19th spoiled his chances of a podium finish. Like Visnu, he too shot a 10.8 to sign off but it was not good enough and he finished behind bronze medallist Hayk Babayan of Armenia.
Visnu's performance did not come as a surprise as he had won bronze a week back at the Indonesian Open and gold at the 5th edition of the IOSC organised by indianshooting.com. Visnu and Pratyush will again be in action this weekend at the 6th edition of the IOSC.
Delighted at his good run, Visnu said, "I am happy that I was able to compete in back-to-back international online shooting competitions. It is always good to compete with shooters from different countries. I am happy with my performance in the final but could have shot a better qualification score today. I am looking forward to the IOSC on the weekend."
It isn't for nothing that the Noida-based Visnu is termed a prospect to watch out for in the coming years. In recent times at practice, Visnu has shot more than the world record on several occasions. He has improved steadily with the help of online competitions. Recently, he had outgunned big names like Martin Strempl and World No.27 Etienne Germond of France to win gold in 10m air rifle at the 5th IOSC.
Pratyush said, "I am glad as I got a chance to compete with such amazing shooters. I am happy with my score and would like to improve further. I am looking forward and gearing up for the IOSC this weekend."
The Results:
Junior Men's 10m Air Rifle: 1. Tianrui Gai (Singapore) 248.5 (626.5); 2. Visnu Shivaraj Pandian (India) 248.2 (623.0); Hayk Babayan (Armenia) 226.1 (620.5); 4. Pratyush Aman Barik (India) 205.0 (621.9).
[gview file="https://www.indianshooting.com/wp-content/uploads/Pyramids-Open.pdf"]
Comments