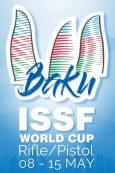 Reigning World Champion in men's 10m air rifle Rudrankksh Patil and Tokyo Olympian Manu Bhaker will lead a strong 34-member Indian team at the ISSF World Cup in Baku, Azerbaijan, starting from Wednesday.
Manu will be competing in women's 10m air pistol and 25m pistol. Rudrankksh will look forwrad to bag his third individual medal of the year in 10m air rifle after the gold in Cairo and bronze in Bhopal.
Last year, Rudrankksh Patil won the Olympic quota for India by winning gold at the World Championships. He will be joined by the former World No.1 Divyansh Singh Panwar at Baku.
Another Olympic quota winner Swapnil Kusale will compete in the men's 50m rifle three positions. He had claimed the quota with a fouth place finish at last year's World Championships.Swapnil will be joined by Tokyo Olympian Aishwary Pratap Singh Tomar.
Another Tokyo Olympian Anjum Moudgil, meanwhile, will lead India's challenge in the women's 50m rifle three positions. Junior World Champion in women's 25m pistol Esha Singh and former World No.1 Elavenil Valarivan in women's 10m air rifle are some of the other notable names in the team.
The Indian Team:
Men's 10m Air Rifle: Rudrankksh Balasaheb Patil, Shahu Tushar Mane, Hriday Hazarika, Arjun Babuta, Divyansh Singh Panwar
Men's 50m Rifle Three Positions: Aishwary Pratap Singh Tomar, Swapnil Kusale, Akhil Sheoran, Pankaj Mukheja
Men's 10m Air Pistol: Shiva Narwal, Sarabjot Singh, Varun Tomar, Arjun Singh Cheema
Men's 25m Rapid Fire Pistol: Anish Bhanwala, Vijayveer Sidhu, Ankur Goel, Arpit Goel, Adarsh Singh
Women's 10m Air Rifle: Ramita Jindal, Tilottama Sen, Nancy, Narmada Nithin Raju, Elavenil Valarivan
Women's 50m Rifle Three Positions: Sift Kaur Samra, Manini Kaushik, Anjum Moudgil, Nischal, Shriyanka Sadangi
Women's 10m Air Pistol: Divya TS, Rhythm Sangwan, Esha Singh, Manu Bhaker
Women's 25m Pistol: Manu Bhaker, Rhythm Sangwan, Esha Singh, Abhidnya Ashok Patil, Niveditha Veloornair
10m Air Rifle Mixed Team: Rudrankksh Patil-Ramita Jindal, Hriday Hazarika-Tilottama Sen
10m Air pistol Mixed Team: Sarabjot Singh-Divya TS, Varun Tomar-Esha Singh
Comments