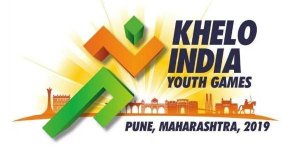 Abhinav Shaw became the youngest gold medallist at the Khelo India Youth Games when he teamed up with Mehuli Ghosh to help West Bengal win the mixed 10m air rifle.
The 10-year-old from Asansol raised his game enough in the final to ensure Mehuli Ghosh's classy display would not result in any medal other than her second gold.
The sixth-standard student had to bide his time to get on the range and display his talent, not being among the 16 shooters chosen to compete in the individual events in either Junior (under-21) and Youth (under-17) categories. He was not about to let it go. He dealt with the qualification and the final with a calm that would be the hallmark of any marksman.
The pint-sized but hugely talented young star made his team-mate, state and parents proud. With a string of positive results in the past few weeks, it is inevitable that the shy lad draws some attention to himself.
Having shot 831.7 in the qualification where they finished second, 0.3 points behind Madhya Pradesh, the West Bengal team was confident that it could pull it off one more time.
In the final, the duo of Mehuli and Abhinav shot a score of 501.7, better than their gold winning effort of 498.2 and 498.8 in the junior and youth finals at last year's National Shooting Championship in Thiruvananthapuram, Kerala.
Shooting second, Mehuli scored strong to help West Bengal to the gold with a big margin of 5.6 points over Rajasthan's Divyansh Singh Panwar and Manini Kaushik.
The bronze was won by Madhya Pradesh team of Shreya Agrawal and Harshit Binjwa with 433.6.
The Results:
Under-21 Mixed 10m Air Rifle: 1. West Bengal (Mehuli Ghosh, Abhinav Shaw) 501.7 (831.7); 2. Rajasthan (Divyansh Singh Panwar, Manini Kaushik) 496.1 (830.1); 3. Madhya Pradesh (Shreya Agrawal, Harshit Binjwa) 433.6 (832.0).
His parents named him after the legend @Abhinav_Bindra and 10 year-old Abhinav Shaw from West Bengal showed immense composure as he teamed up with @GhoshMehuli to win the U-21 10m Mixed Air Rifle event.#Shooting @OfficialNRAI #SAI #KheloIndia #KIYG2019 pic.twitter.com/AmEhKsAJql

— Khelo India (@kheloindia) January 13, 2019
Comments