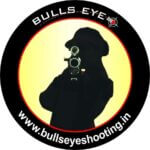 Ayushi Podder's rich haul of five gold and one silver across three events at last week's 53rd West Bengal State Shooting Championship in Asansol is a rarity in the Indian context. More than the novelty, the feat is testimony to Ayushi and father-cum-coach Pankaj Podder's determination to break a stereotype, and the reason why the 20-year-old is billed Indian shooting's next big star.
"When I started, a lot of people told me to focus and excel in one event, but I did not like this mindset. A lot of shooters abroad excel in all three events (10m Air Rifle, 50m Rifle Prone, 50m Three Positions) and proficiency in all three helps in a lot of ways. I wanted to break this stereotype. Nothing is impossible with hard work," said Ayushi in an exclusive chat with indianshooting.com.
After months of training at home during the pandemic, Ayushi, who trains with her father at the Bullseye Shooting Academy in Kolkata, shot 397/400 to claim the gold in Women's 10m Air Rifle, two points ahead of Commonwealth Games silver medallist Mehuli Ghosh.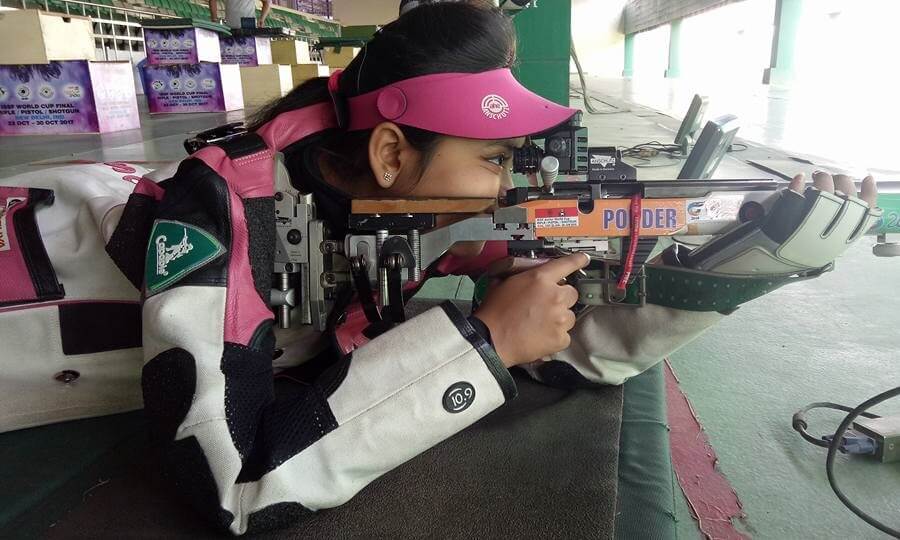 Ayushi was on target in the 50m Rifle Three Positions as she set a new meet record of 583 and won gold in seniors and juniors. She settled for silver in 50m Rifle Prone with 587 behind Chetna Rahi, also Podder's student. However, Aysuhi was good enough to win gold among juniors.
Ayushi's journey began in 2014 with 50m Rifle Prone, and the following years saw her learn the nuances of 10m Air Rifle and 50m Rifle Three Positions. The going was tough as neither did she have access to funds or the right equipment, experts were divided on whether focusing on three events was the correct route to take. Ayushi and Pankaj ignored the detractors and chose to focus on the journey while defying the odds. "Ayushi started 50m Rifle Three Positions (considered the toughest of the three events) with my rifle, which weighed 8kg, much beyond her frame could handle, since we could not afford a sports rifle which weighs 5.5 kg," says Pankaj.
After a while, Pankaj customized another of his rifles to bring the weight down to 6.5kg and did a mix and match further on to reduce the weight by another 750 grams. The struggle instilled a fighting spirit in Ayushi, and when she finally got the rifle of her choice in 2019, there was a spurt in performance. The journey to success has come with a price. Pankaj still rides a bike that's 26 years old and the age of the family car is well beyond the prescribed government norms, but when it is about procuring a rifle for Ayushi corners are not cut.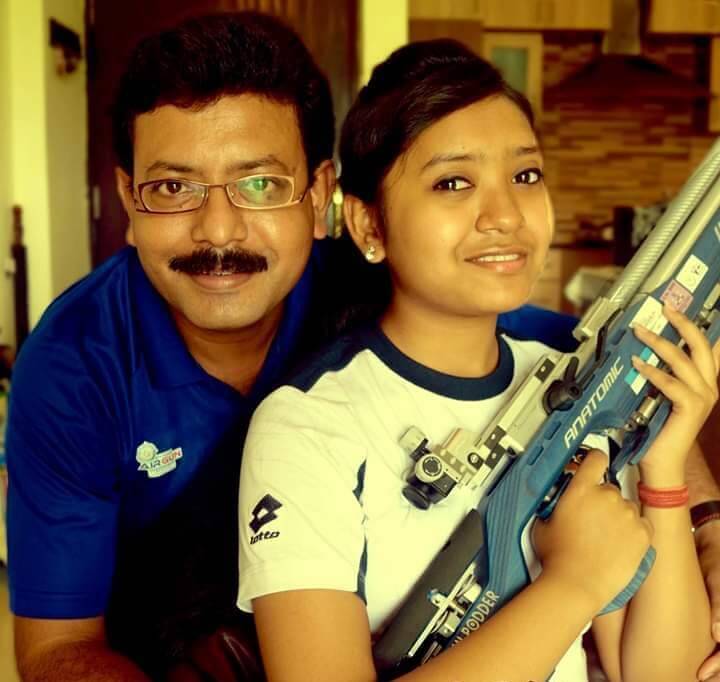 This, and Pankaj's belief from his playing days that proficiency in all three events was critical in shaping Ayushi's dreams. The father-daughter duo is in no hurry, and this has been the mindset since 2016. "Our focus has never been on medals at the junior level but glory in the senior ranks as over the years I have seen many promising juniors failing to make the transition and fading away," says Pankaj.
The Nationals in May will be Ayushi's last as a junior and she is well set for the big leap. In 50m Rifle Three Positions, she is ranked No.2 in seniors and No.1 in juniors. Another instance is of Ayushi shooting 1174 at the Olympic trials in Delhi a year back for a first in Indian shooting. Here too, Pankaj does not read too much in the numbers. "One's rank can be anything but what matters is to get better than the previous day, and for that it is imperative to be a good human being," says Pankaj.
Breeding ground for champions
The Bullseye Shooting Academy isn't just about Ayushi's rise. Pankaj's astute coaching is shaping many more champions from disadvantaged sections who otherwise would not have had a chance to live a dream. Sayed Shajeed, who is a NCC shooter from 10 Bengal Battalion, Asansol, is one such case. Once a part of the Indian squad, the 20-year-old wasn't planning to board the train to Asansol due to lack of funds till Pankaj made him change his mind. Sayed's entry fee was paid by his coach and a rifle was made available along with 100 rounds of ammunition. Armed with some last-minute coaching tips from Pankaj, Sayed stationed himself for the 50 Rifle Prone event. He made the final and almost clinched gold with a score of 590/600 but lost out due to a lower last series. "The medal does not matter but what does is that he explored his best," said Pankaj.
By Robin Bose
Comments