Elavenil Valarivan claimed gold medal in the junior women's 10m air rifle at the ISSF Junior World Cup in Suhl, Germany.
Elavenil shot 251.7 in the finals to beat Wang Zeru of China by 0.8 point. Chinese Taipei's Ying-Shin Lin, who won the senior World Cup gold in the event earlier this month in Munich, won bronze with a score of 229.5.
The 18-year-old, Elavenil, topped the qualifications with a score of 630.5, 0.2 ahead of compatriot Mehuli Ghosh in a field of 146 shooters.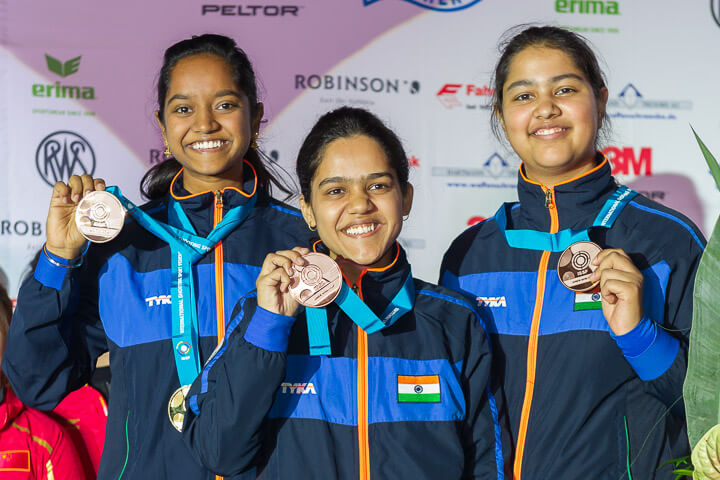 While Mehuli finished 6th in the finals eventually, Elavenil led from start to finish during her impressive performance. She also helped India win the team bronze, combining with Shreya Agrawal and Zeena Khitta for a combined score of 1871.0.
It was the second World Cup gold among the juniors this season for Elavenil who had won the Sydney World Cup with a qualification world record of 631.4.
The Indian junior women's air rifle team could have won the gold with a big margin, had Mehuli been a part of it. The team settled for the bronze behind China and Singapore which were tied on a world record junior score of 1879.9.
India have seven medals from the competition so far with three gold, one silver and three bronze.
The Results:
Junior Women's 10m Air Rifle: 1. Elavenil Valarivan (India) 251.7 (630.5); 2. Wang Zeru (China) 250.9 (626.7); 3. Ying-Shin Lin (Chinese Taipei) 229.5 (628.1); 6. Mehuli Ghosh (India) 164.2 (630.3); 22. Shreya Agrawal (India) 623.2; 74. Zeena Khitta (India) 617.3.
Team: 1. China 1879.9 (WRJ); 2. Singapore (1879.9 (WRJ); 3. India 1871.0.
Comments