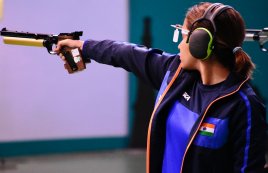 Former World No. 1 Heena Sidhu of ONGC claimed the highest spot of the podium in the Women's 10m Air Pistol at the 17th Kumar Surendra Singh Memorial Shooting Championship in New Delhi.
Despite shooting a poor last shot of 8.6, Heena's lead ensured that she pipped Malaika Goel of Haryana for the gold, who shot a 10.2 in her final attempt.
Heena had topped the qualification on Sunday evening with a score of 384 to lead an eight-woman line-up into Monday's final at the Dr. Karni Singh Shooting Range.
The two-time Olympian shot 238.9 in the finals to beat Malaika by a slender margin of 0.3 points. Shri Nivetha of Tamil Nadu won the bronze.
Malaika, who is a Commonwealth Games silver medallist, was beaten to the gold in the junior category as well by Manu Bhaker, by 2.8 points. Harshada Sadanad of Maharashtra won the bronze.
The performance of the day, however, belonged to the young and talented Manu Bhaker of Haryana, who beat quality fields in both the junior and youth categories to register a double gold.
In the Youth category, Manu shot 234.9 to beat Anjali Chaudhary of Haryana by 2.8 points while Tanu Rawal ensured a clean sweep for Haryana by claiming the bronze.
The Junior World Champion Yashaswini Deswal did not shoot the finals, both in the women's and junior sections while Anisa Sayyed, who shot 381 in the qualification, missed the final, as she was late.
Sudhir Kumar wins centre fire gold
In the Men's 25m Centre Fire Pistol, Sudhir Kumar clinched the gold ahead of veteran Samaresh Jung after being tied on 586, while Achal Pratap Singh Grewal took the bronze, three points behind.
The Results:
Women's 10m Air Pistol: 1. Heena Sidhu 238.9 (384); 2. Malaika Goel 238.6 (384); 3. P. Shri Nivetha 217.4 (380).
Junior Women's 10m Air Pistol: 1. Manu Bhaker 239.0 (378); 2. Malaika Goel 236.2 (384); 3. Harshada Harshada Sadanad 213.9 (377).
Youth Women's 10m Air Pistol: 1. Manu Bhaker 234.9 (378); 2. Anjali Choudhary 232.1 (373); 3. Tanu Rawal 211.2 (374).
Men's 25m Centre Fire Pistol: 1. Sudhir Kumar 586; 2. Samaresh Jung 586; 3. Achal Pratap Singh Grewal 583.
Comments