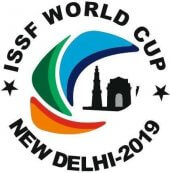 The two Olympic quotas on offer in the men's 25m rapid fire pistol at the ISSF World Cup were withdrawn owing to the denial of visas to Pakistani shooters in the wake of the Pulwama terror attack.
The International Olympic Committee (IOC) restricted the withdrawal of recognition as an Olympic qualification event to rapid fire pistol in which the two Pakistani athletes — Ghulam Mustafa Bashir and Mohd. Khalil Akhtar — were supposed to participate. This happened in the interest of the other 500 athletes from 61 countries participating in the other events who are already in India for their competition.
Pakistan shooters' participation in the competition became the bone of contention since the terror attack in Jammu and Kashmir's Pulwama killed more than 40 CRPF personnel last Thursday.
Denied visas in the wake of the Pulwama terror attack, the Pakistan's shooting federation on Wednesday wrote to the international body, asking it to drop the two quotas.
This is a set back to India's Anish Bhanwala, Arpit Goel and Adarsh Singh who will be competing in this event.
The IOC has asked ISSF to make a proposal on how the two available Olympic quota places could be reassigned.
The IOC Executive Board also decided to suspend all discussions with the Indian National Olympic Committee and government regarding the potential applications for hosting future sports and Olympic-related events in India, until clear written guarantees are obtained from the Indian government to ensure the entry of all participants in such events in full compliance with the rules of the Olympic Charter – and to recommend that the International Federations neither award to nor hold sports events in India until the above-mentioned guarantees are obtained.
Comments