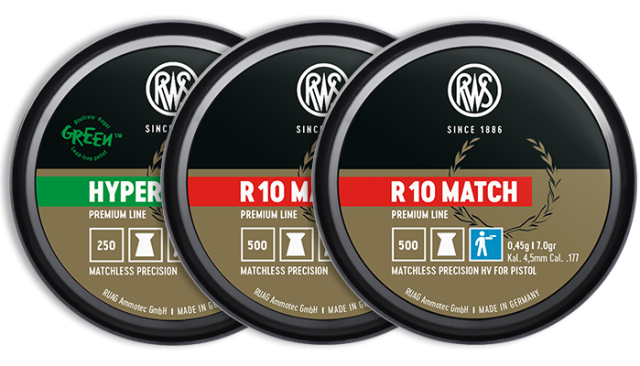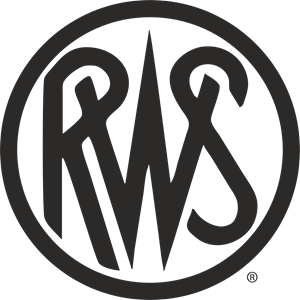 The RWS PREMIUM LINE offers sport shooters precision pellets in 4.5 mm calibre for match air rifles and pistols. They boast rigorously tested material compositions, special surface properties and optimised weight.
Besides plenty of practice and sheer grit, it takes the right gear and excellent ammunition to compete for a place in the sun in sport shooting with air guns. The PREMIUM LINE air gun pellets by RWS provide flat nose diabolos for competition and practice that promise outstanding reliability and consistent accuracy. The leading part, tail section and special shape of the flat nose are decisive for optimised stabilisation of the pellet in the barrel. The match pellets are available as RWS R10 MATCH (air rifle and air pistol), as hand-picked RWS R10 MATCH PLUS (air rifle) and as lead-free RWS HYPERMATCH (air rifle).
The classic R10 MATCH pellets are the first choice for the global elite and ambitious club shooters determined to optimise their performance. Athletes have racked up multiple top positions in international matches with these high-end pellets. The outstanding quality of RWS R10 MATCH is guaranteed by selected material qualities, narrow manufacturing tolerances, professional shooting tests and careful packing and marking processes. Precise manufacturing also ensures absolute dimensional accuracy for length and weight. In practice, this means the smallest, uniform shot groups and clearly punched shot holes. RWS R10 MATCH is available for both air rifles (weight: 0.53 g) and air pistols (weight: 0.45 g) – in each case with four different nose diameters: ø 4.48 mm, ø 4.49 mm, ø 4.50 mm and ø 4.51 mm. The best of the RWS R10 MATCH pellets are selected and carefully packed into 2 specially manufactured competition packs for the RWS R10 MATCH PLUS. They are available in 0.53 g for air rifles and with a ø of 4.50 mm.
RWS HYPERMATCH is the first lead-free air gun pellet in premium match quality by RWS. It is made of a high-tech tin alloy that delivers excellent precision values as well as 7.5 mm shot groups, despite its lightness (weight: 0.33 g). In addition, the air gun pellets are environmentally friendly and gentle on the barrel.
Learn more about RWS PREMIUM LINE match pellets for top-level sport.
Comments